The Gift of Family (Large Print / Library Binding)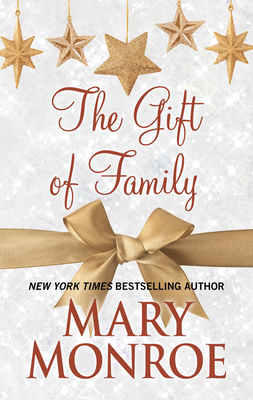 $32.99
Backordered or Out of Print
Description
---
From acclaimed New York Times bestselling author Mary Monroe comes the captivating and heartfelt tale of a couple who has everything--except the dream they long for most. But this Christmas, a reunion with someone from the past could gift them a once-in-a-lifetime last chance . . . Successful, secure, and still very much in love, middle-aged couple Eugene and Rosemary Johnson have never given up on one special wish--to be parents. And while Christmas always brings happiness and a whirlwind of holiday fun, their hopes for children of their own seem further away than ever. Especially this year, when Rosemary must have emergency surgery and home help to recuperate. Wanting to lift his wife's spirits, Eugene suddenly has an inspiration from back in the
day . . . Faithful and sensible, Ethel Perkins raised Eugene and his brother. Unforeseen tragedy has left the sixty-something widow struggling with little money and two jobs to keep her great-grandchildren off the streets. She's glad to help Rosemary back on her feet. But she can only stay until Rosemary is well enough to resume her normal routine. For Ethel, survival means keeping to her grueling schedule, being there for everyone but herself, and, as always, handling her troubles all on her own . . . As Ethel's problems go from bad to much worse, Rosemary and Eugene find themselves helping her more and more--and growing close to her lively youngsters. Soon, there's only one way both families can salvage the season: by celebrating it together. But will their temporary family work into the
future . . . and possibly make a lifetime of happiness?
About the Author
---
MARY MONROE, the daughter of sharecroppers, was born thirteen days before Christmas and always celebrates her birthday with a Christmas theme (once she even dressed as an elf). She usually spends the holiday with family and friends feasting on elaborate meals, exchanging gifts, and trying to keep unruly pets from knocking over the Christmas tree. But even when this event is spent alone eating a take-out dinner and watching the same sentimental Christmas movies for the hundredth time, it is still the most special day in the year. Mary is the author of the award-winning and New York Times bestselling God series, which includes God Don't Like Ugly and God Don't Make No Mistakes, among other novels. Winner of the AAMBC Maya Angelou Lifetime Achievement Award and the PEN/Oakland Josephine Miles Award, Mary Monroe currently lives in Oakland, California. She loves to hear from her readers via e-mail at AuthorAuthor5409@aol.com.Visit Mary's website at MaryMonroe.org.