Web of Lies (Elemental Assassin #2) (Mass Market)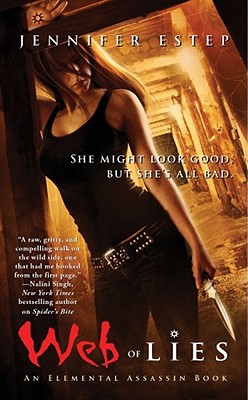 $9.99
Backordered or Out of Print
Other Books in Series
This is book number 2 in the Elemental Assassin series.
Description
---
Following up the first book in her new "Elemental Assassin" series, Jennifer Estep's Web of Lies once again brings readers into sexy assassin Gin Blanco's world, which is populated with giants, goth dwarves, elementals, and some kick-butt BBQ.

Curiosity is definitely going to get me dead one of these days. Probably real soon.

I'm Gin Blanco. You might know me as the Spider, the most feared assassin in the South. I'm retired now, but trouble still has a way of finding me. Like the other day when two punks tried to rob my popular barbecue joint, the Pork Pit. Then there was the barrage of gunfire on the restaurant. Only, for once, those kill shots weren't aimed at me. They were meant for Violet Fox. Ever since I agreed to help Violet and her grandfather protect their property from an evil coal-mining tycoon, I'm beginning to wonder if I'm really retired. So is Detective Donovan Caine. The only honest cop in Ashland is having a real hard time reconciling his attraction to me with his Boy Scout mentality. And I can barely keep my hands off his sexy body. What can I say? I'm a Stone elemental with a little Ice magic thrown in, but my heart isn't made of solid rock. Luckily, Gin Blanco always gets her man...dead or alive.
About the Author
---
Jennifer Estep is a New York Times and USA Today bestselling author prowling the streets of her imagination in search of her next fantasy idea. Spider's Bite, Web of Lies, Venom, Tangled Threads, Spider's Revenge, By a Thread, Widow's Web, Deadly Sting, Heart of Venom, The Spider, Poison Promise, Black Widow, Spider's Trap, Bitter Bite, Unraveled, and Snared, along with the e-shorts Thread of Death, Parlor Tricks, Kiss of Venom, Unwanted, and Nice Guys Bite are the other works in her red-hot Elemental Assassin urban fantasy series. Jennifer is also the author of the Black Blade and Mythos Academy young adult urban fantasy series and the Bigtime paranormal romance series. For more on Jennifer and her books, visit her at JenniferEstep.com and @Jennifer_Estep.
Praise For…
---
"Estep has truly hit the jackpot with this outstanding series!"
-Romantic Times, 4 1/2 stars

"A raw, gritty, and compelling walk on the wild side, one that had me hooked from the first page."
- Nalini Singh, New York Times bestselling author on SPIDER'S BITE

"High-octane-fueled action, labyrinthine conspiracies, and characters who will steal your heart."
- Adrian Phoenix on SPIDER'S BITE