Operational Updates
Reopening for in-person browsing: JUNE 6
store hours: 12pm to 6pm everyday
We are still accepting online orders, as well as care package orders at this link.
New Customer Guidelines:
No Mask, No Entry. If you don't have a mask, knock on the door and a staff member will bring you one that you can keep.
Browse with intention. Don't touch every book in the store if you don't have to.
In order to ensure touchless checkout, we are not accepting cash at this time.
Only 7 customers are allowed in the store at one time.
No pets at this time.
Children need to be vigorously supervised; they cannot leave your side while you are browsing.
All seating areas are closed.
Our tea service is currently suspended, but you can still buy the tea leaves to make at home.
Lost & Found (MP3 CD)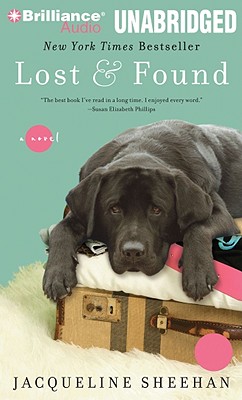 Description
---
Rocky's husband, Bob, was just forty-two when she discovered him lying cold and lifeless on the bathroom floor . . . and Rocky's world changed forever. Quitting her job and chopping off all her hair, she leaves Massachusetts -- reinventing her past and taking a job as Animal Control Warden on Peak's Island, a tiny speck off the coast of Maine and a million miles away from everything she's lost. She leaves her career as a psychologist behind, only to find friendship with a woman whose brain misfires in the most wonderful way and a young girl who is trying to disappear. Rocky, a quirky and fallible character, discovers the healing process to be agonizingly slow. But then she meets Lloyd. A large black Labrador retriever, Lloyd enters Rocky's world with a primitive arrow sticking out of his shoulder. And so begins a remarkable friendship between a wounded woman and a wounded, lovable beast. As the unraveling mystery of Lloyd's accident and missing owner leads Rocky to an archery instructor, who draws her in even as she finds every reason to mistrust him, she discovers the life-altering revelation that grief can be transformed . . . and joy does exist in unexpected places. "Jacqueline Sheehan eloquently and expertly channels both human and canine voices in this bittersweet island-set tale of wounded lives renewed." -- Suzanne Strempek Shea, author of Becoming Finola.