Four Summoner's Tales (Paperback)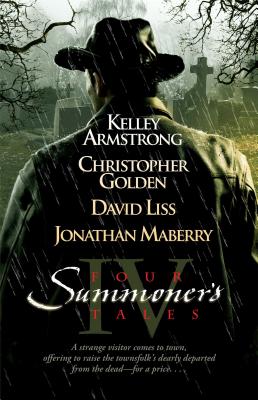 $16.00
Backordered or Out of Print
Description
---
Four bestselling authors. One hellraising premise.

What if the dead could be summoned from their graves—for a price? What if a quartet of distinctive storytellers took a stab at this deceptively simple idea—on a dare? The answers lie here, in Four Summoner's Tales, as these acclaimed writers accept the challenge and rise to the occasion—in four brilliantly chilling ways. It's all in the execution. . .

"SUFFER THE CHILDREN" BY KELLEY ARMSTRONG, #1 New York Times bestselling author
A preacher and his adopted daughter must solve the mystery of the newcomers to their isolated 19th century village—men who are preying on residents' overwhelming grief with promises to bring the stricken back to life.

"PIPERS" BY CHRISTOPHER GOLDEN, New York Times bestselling author
Twenty-three people have already lost their lives to the ruthless cartel terrorizing their small Texas border town. But one man has a plan for revenge, if the town's survivors will let him use their loved ones—to raise an army of the undead.

"A BAD SEASON FOR NECROMANCY" BY DAVID LISS, National bestselling author
In merry old England, a rascally con man stumbles upon a book for raising the dead. But instead of using it to make money by reviving relatives for the rich, he'll do just the opposite. Because some family skeletons need to stay buried.

"ALIVE DAY" BY JONATHAN MABERRY, New York Times bestselling author
In war-torn Afghanistan, a U.S. military operative and his team face off against an ancient horror during a harrowing off-the-books search-and-rescue mission.
About the Author
---
Kelley Armstrong is the #1 New York Times bestselling author of the Otherworld series, as well as the New York Times bestselling young adult trilogy Darkest Powers, the Darkness Rising trilogy, and the Nadia Stafford series. She lives in rural Ontario, Canada with her husband and three children.

David Liss is a proud science fiction geek. When not acting like a total fanboy, he's generally working on his books, stories, and comics. Liss has written eight bestselling novels for adults, most recently The Day of Atonement, and is the author of numerous comics, including Mystery Men, Sherlock Holmes: Moriarty Lives, and Angelica Tomorrow. He lives in San Antonio, Texas.

Christopher Golden is the New York Times bestselling author of novels for adults and younger readers. In addition to the Magic Zero quartet, his YA fiction includes Poison Ink and both the Prowlers series and the Body of Evidence series of teen thrillers, several of which have appeared on the YALSA Best Books for Young Readers list. His current work-in-progress is Cemetery Girl, a graphic novel trilogy collaboration with Charlaine Harris. He has cowritten three illustrated novels with Mike Mignola, the first of which, Baltimore, or The Steadfast Tin Soldier and the Vampire, was the launching pad for the Eisner-nominated, New York Times bestselling comic book series Baltimore. As an editor, he has worked on the short story anthologies The New Dead, The Monster's Corner, and 21st Century Dead, among others, and has also written and cowritten video games, screenplays, and a network television pilot. His original novels have been published in more than fourteen languages in countries around the world.

Jonathan Maberry is a New York Times bestselling author, five-time Bram Stoker Award winner, and comic book writer. He writes in multiple genres including suspense, thriller, horror, science fiction, fantasy, and adventure; and he writes for adults, teens, and middle grade. His works include the Joe Ledger thrillers, Glimpse, the Rot & Ruin series, the Dead of Night series, The Wolfman, The X-Files Origins: Devil's Advocate, Mars One, and many others. Several of his works are in development for film and TV, including V Wars, which is a Netflix original series. He is the editor of high-profile anthologies including the X-Files books, Aliens: Bug Hunt, Out of Tune, Hardboiled Horror, Baker Street Irregulars, Nights of the Living Dead, and others. He lives in Del Mar, California. Visit him at JonathanMaberry.com and on Twitter (@JonathanMaberry) and Facebook.