Revenge: The Faces of Evil Series: Book 5 (Mass Market)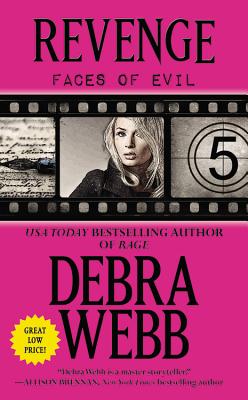 $6.00
Backordered or Out of Print
Other Books in Series
This is book number 5 in the Faces of Evil series.
Description
---
"Compelling main characters and chilling villains elevate Debra Webb's Faces of Evil series into the realm of high-intensity thrillers that readers won't be able to resist." -- CJ Lyons, New York Times bestselling author

The desire for revenge can never be sated . . .
When her beloved high school teacher appears on her doorstep, Deputy Chief Jess Harris is flooded with fond memories-until the woman says she's about to be charged with murder. Called to the scene of the crime, Jess learns the victim of the bizarre and brutal slaying was a member of Birmingham's famed "Five."

Twelve years ago, the Five were rich, popular high school seniors who threw one wild last party. Two social outcasts were invited to play in the "loser games." The next morning, one player killed himself. Now Jess fears that an invitation to an upcoming class reunion may have forced the Five to play a new deadly game. As Jess fights to keep her former teacher from suspicion-and her relationship with Chief Dan Burnett separate from her work life-she knows she is caught in a vicious cycle of vengeance. And the killer is far from finished . . .
About the Author
---
Debra Webb, born in Alabama, wrote her first story at age nine and her first romance at thirteen. It wasn't until she spent three years working for the military behind the Iron Curtain -- and did a five-year stint with NASA -- that she realized her true calling. She set a collision course between suspense and romance. Since then she has penned nearly one hundred novels including her internationally bestselling Colby Agency series. Her debut romantic thriller series, Faces of Evil, propelled Debra to the top of the bestsellers charts for an unparalleled twenty-four weeks and garnered critical acclaim from reviewers and readers alike. Don't miss a single installment of this fascinating and chilling series!

You can write to Debra at PO Box 12485, Huntsville, AL, 35815, or learn more at:
DebraWebb.com
Twitter @DebraWebbAuthor
Facebook.com
Praise For…
---
Compelling main characters and chilling villains elevate Debra Webb's Faces of Evil series into the realm of high-intensity thrillers that readers won't be able to resist." --New York Times bestselling author CJ Lyons



"Just when you think Debra Webb can't get any better, she does. OBSESSION is her best work yet. This gritty, edge of your seat, white knuckle thriller is peopled with tough, credible characters and a brilliant plot that will keep you guessing until the very end. Move over Jack Reacher - Jess Harris is comin' to town." -- Cindy Gerard, New York Times best-selling author, award winning author of the Black Ops, Inc. series


"Debra Webb's name says it all..." -- Karen Rose


"Debra Webb is a master storyteller."—Allison Brennan, New York Times bestselling author