Operational Updates
Click HERE for the most updated hours, customer guidelines and updates to store policy.
Deadly Silence (Blood Brothers #1) (Mass Market)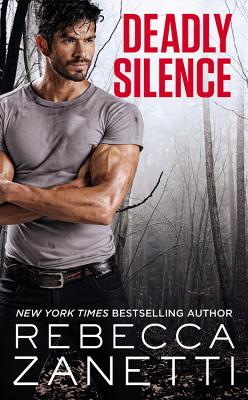 Description
---
DON'T LOOK BACK

Under siege. That's how Ryker Jones feels. The Lost Bastards Investigative Agency he opened up with his blood brothers has lost a client in a brutal way. The past he can't outrun is resurfacing, threatening to drag him down in the undertow. And the beautiful woman he's been trying to keep at arm's length is in danger...and he'll destroy anything and anyone to keep her safe.

Paralegal Zara Remington is in over her head. She's making risky moves at work by day and indulging in an affair with a darkly dangerous PI by night. There's a lot Ryker isn't telling her and the more she uncovers, the less she wants to know. But when all hell breaks loose, Ryker may be the only one to save her. If his past doesn't catch up to them first...

Full of twists and turns you won't see coming, Deadly Silence is New York Times bestselling author Rebecca Zanetti at her suspenseful best. Fans of New York Times bestsellers Maya Banks, Lisa Gardner, and Lisa Jackson will love Deadly Silence.

RT Book Reviews Readers' Choice Award Winner!
About the Author
---
Rebecca Zanetti is the author of over twenty-five romantic suspense, dark paranormal, and contemporary romances, and her books have appeared multiple times on the New York Times, USA Today, and Amazon bestseller lists. She has received a Publishers Weekly Starred Review for Wicked Edge, Romantic Times Reviewers' Choice Award for Deadly Silence, Romantic Times Reviewers' Choice Nominations for Forgotten Sins and Sweet Revenge, and RT Top Picks for several of her novels.

She lives in the wilds of the Pacific Northwest with her own alpha hero, two kids, a couple of dogs, a crazy cat . . . and a huge extended family. She believes strongly in luck, karma, and working her butt off . . . and she thinks one of the best things about being an author, unlike the lawyer she used to be, is that she can let the crazy out. Find Rebecca at: www.rebeccazanetti.com
Praise For…
---
"Zanetti is a writing machine...everything she writes is just spectacular...an exciting, action-packed story."
—
Frolic, "Starter Guide to Romantic Suspense"
"Zanetti balances the adventure and menace of Zara and Ryker's lives with a relatable romance. The result is a story that's sexy and emotional, and filled with a rich look at love in all its forms."
—
Washington Post on Deadly Silence
"TOP PICK! 4 1/2 STARS! Emotionally charged and sexy action-packed thriller. It doesn't get better than this!"
--
RT Book Reviews
on
Deadly Silence
—
-
"Budget your time, readers, because this is one that's hard to put down."
—
HeroesandHeartbreakers.com on Deadly Silence
"Rebecca Zanetti is on fire. Her last few books are some of her very best and she continues that streak with this book. When I think about this book words like 'intense' and 'fierce' come to mind."
—
Scandalicious on Deadly Silence
"Top Pick! 4 1/2 stars! Bravo and thanks to Zanetti for providing stellar entertainment!"
---
RT Book Reviews
on
Total Surrender
—
-
"
Total Surrender
is action packed, thrilling, and heart-stopping romantic suspense at its best."
--- Harlequinjunkie.com—
-
"TOP PICK! 4 1/2 stars! Hang on as Zanetti whisks you into a world of danger, passion and treachery!"
---
RT Book Reviews
on
Blind Faith
—
-
"WOW! I could not put
Blind Faith
down. [It] is a fast-paced, actionpacked thriller that will have you on the edge of your seat the whole time."
--- Freshfiction.com—
-
"TOP PICK! 4 1/2 stars! Filled with twists and turns and a heaping dose of adrenaline, Zanetti takes readers on a ride they won't soon forget!"
---
RT Book Reviews
on
Sweet Revenge
—
-
"Top Pick! 4 1/2 stars! The rich world of romantic suspense gets even better with the first in Zanetti's tremendous, new, paranormal-edged series. Zanetti pulls together a heady mix of sexy sizzle, emotional punch and high-stakes danger in this truly outstanding tale. Brava!"
--
RT Book Reviews
on
Forgotten Sins
—
-
"Fans of romantic suspense will enjoy the twists and reversals that Zanetti puts her protagonists through."
--
Publishers Weekly
on
Forgotten Sins
—
-
"I'm completely captivated!...bring on the next book!"
--RomanceJunkiesReviews.com on
Forgotten Sins
—
-