Wild Card (Buddy Steel Mysteries #3) (Hardcover)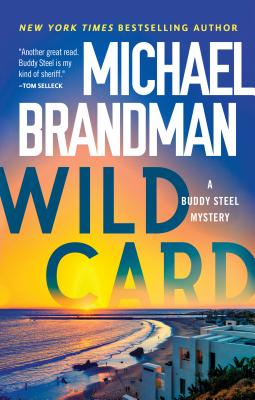 Description
---
"...another irreverent, complex lawman." --Library Journal
Follow Buddy Steel on his most difficult and dangerous investigation yet as he stumbles upon corruption in his own backyard.
When San Remo County Acting Sheriff Buddy Steel is deputized by the California Coastal Commission to investigate a reclusive Russian billionaire who has repeatedly violated state law by obstructing public access to his vast beachfront property, he makes a shocking discovery. And learns that the politicos, some with a history of corruption, some just chicken, will not back up enforcement.
This makes Buddy, a former LAPD cop dragged home by his Sheriff father's ALS diagnosis to "temporarily" head the department, dig in his heels and face down the Russian's imported goon squad. It can and will get uglier.
At the same time a string of random murders in the county's normally sleepy town of Freedom, a wealthy enclave up the coast from Los Angeles, places the Sheriff's Department on high alert as it seeks to apprehend a serial killer whose crimes are so perfectly executed they leave no forensic evidence.
Buddy enlists an old adversary in his war with the Russian. She's a legal shark from L.A., a savvy negotiator--and former lover. He needs to carry this fight to court. And he needs more backup--from the Sheriff's Department staff, not the Sheriff, who resists being sidelined. Nor Freedom's mayor, Buddy's stepmother.
Unconventional and meticulously obtuse in his methodology, wild card cynic Buddy Steel barrels his way through the myriad obstacles that defy him. He may not want the job but his quest for serving the law is relentless.
Wild Card is the third in the Buddy Steel series by Hollywood ace Michael Brandman who, among his other credits, has both written New York Times bestsellers in the Robert B. Parker Jesse Stone series and brought Jesse to the screen in nine films starring Tom Selleck.
About the Author
---
Michael Brandman is the author of three Jesse Stone novels, each based on characters created by Robert B. Parker, all on the New York Times Best Sellers list.With his longtime partner, Tom Selleck, he produced and co-wrote nine Jesse Stone movies and three Westerns.His and Emanuel Azenberg's production of Tom Stoppard's Rosencrantz & Guildenstern Are Dead won the Venice Film Festival's Golden Lion Award for Best Picture.He has produced more than forty motion pictures including films written by Arthur Miller, Stephen Sondheim, Neil Simon, David Mamet, Horton Foote, Wendy Wasserstein; David Hare, and Athol Fugard.He is the father of two sons and lives in Los Angeles with his wife, the actress Joanna Miles.