Operational Updates
Click HERE for the most updated hours, customer guidelines and updates to store policy.
Dettingen 1743: Miracle on the Main (Campaign) (Paperback)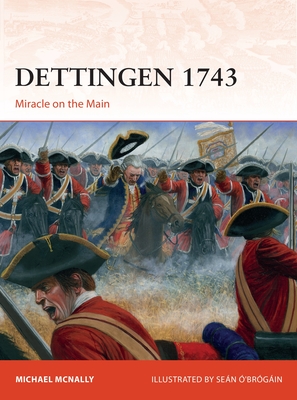 $24.00
NOT ON OUR SHELVES- available for order, usually ships in 1-5 days
Description
---
This study analyzes the battle of Dettingen, one of the major Allied victories of the War of the Austrian Succession, and the last time a British monarch commanded troops in the field.

The death of the Emperor Charles VI in 1741 was the catalyst for a conflict ostensibly about the female inheritance of the Hapsburg patrimony but, in reality, about the succession to the Imperial Throne. The great European powers were divided between those, such as Britain, who supported the Pragmatic Sanction and the rights of the Archduchess Maria-Theresa, daughter of Charles VI, and those who challenged it, including Bavaria which were supported by France.

The conflict quickly escalated into what is now known as the War of the Austrian Succession, and a series of turbulent political events brought the crisis to a head on the road to Hanau, near Dettingen. There, the French moved to put into place a complex maneuver which had the potential to end the war at a single stroke. A column of French troops would cross the Main near Dettingen and block the road to Hanau, their orders being to simply hold their ground and bar the route of the Allied British and Hanovarian advance. A second column would cross the Main behind the enemy and then follow their line of march northwards. The bulk of the army would use a combination of bridges and pontoon-bridges to cross the Main and engage the enemy from the flank as they were strung out on the line of march. However, the plan relied heavily on the blocking force, and command of this crucial sector fell to an inexperienced nobleman Louis-Auguste, Duc de Grammont, who chose to attack rather than hold his position. Consequently, the maneuver failed and the French broke, fleeing for the Main and safety, with the Gardes Francaises famously swimming the river.

Supported by specially commissioned artwork including maps and battleplates, this title explores the battle in depth, detailing its build-up, events, and aftermath, as well as analyzing the strengths and weaknesses of the commanders, armies, and tactics of both sides.
About the Author
---
Seán Ó'Brógáin lives and works in Donegal, Ireland. He has a BA (Hons) in Scientific and Natural History illustration from Lancaster University, and has worked for a wide range of clients. In addition to his stunning work for Osprey Publishing, he has collaborated with the University of Manchester, An Post, the National Museum of Ireland, the Irish Office of Public Works and a variety of media companies, museums, councils and private individuals.