The Paper Lantern (Paperback)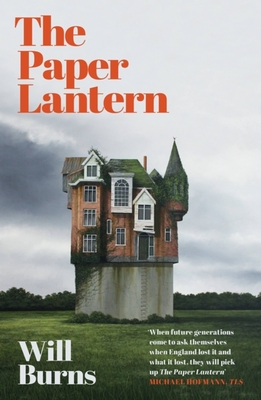 $15.99

NOT ON OUR SHELVES- available for order, usually ships in 1-5 days
Description
---
When future generations come to ask themselves when England lost it and what it lost, they will pick up The Paper Lantern' Michael Hofmann, TLS

'A remarkable achievement in a book that feels at once timely and deeply considered' Irish Times

'A book that speaks powerfully about what it is to be English and about the impact of coronavirus on our national psyche' Observer

'Will Burns is the new Defoe' Adelle Stripe

Set in a shuttered pub - The Paper Lantern - in a village in the very middle of the country adjacent to the Prime Minister's Chequers Estate, an unnamed narrator embarks on a series of walks in the Chiltern Hills. As he charts and interrogates the shifts in mood and understanding that have defined a transformative period in his own history and that of the surrounding area, he reveals a past scarred with trauma and a present lacking compass. Traversing local raves in secret valleys, to climate change and capitalism, The Paper Lantern creates a tangible, lived-in complicated rendering of a place, at the moment when the very sense of place itself is being questioned.
About the Author
---
Will Burns is a poet and writer based in Buckinghamshire. He began publishing his poetry in 2014 when he was named a Faber & Faber New Poet, and since then he has also published poetry pamphlets with Clutag Press, Rough Trade Books and his first full collection, COUNTRY MUSIC, with Offord Road Books in 2020, which was Book of the Week in the London Review Bookshop.


Will is a long-time contributor to the online nature-writing journal Caught by the River, and his work has been discussed in the Guardian, the Times Literary Supplement, Poetry Review and the Independent.
Praise For…
---
Will Burns has written a remarkable novel of the pandemic, told from the perspective of an outsider wandering in the heart of the country. His book is a boldly struck chord, one that contains many of the dissonances, but also the harmonies, found in England today—CHRIS POWER

Only a poet as talented as Will Burns could guide us through the landscape of a transformed Britain and reveal with such vivid language its complexity, cruelty and beauty'—CRAIG TAYLOR

The Paper Lantern captures the changing face of contemporary village life in this spellbinding lament to the Chiltern landscape. Will Burns is the new Defoe—ADELLE STRIPE

I always feel as if - Essex aside - the area surrounding London is a big blank bonut when it comes to arts or literary non-fiction. Finally here is a writer who captures the psychology and topography of these weird market towns and villages where I grew up. We need these nuanced conversations more than ever and in Will's writing I get a real sense of an emerging discussion about what it is to be English and a man in the 21st century. I found it hugely affecting and timely—LUKE TURNER

Offers a portrait of contemporary England and Englishness which manages to be critical and empathetic all at once—WILL ASHON

A complex portrait of this small Buckinghamshire town and the odd twists of fate and place that bind people together... he's ended up achieving something quite rare, capturing the unique personality of the Home Counties, and the strangeness of how coronavirus might at once affect everything and nothing in a small Buckinghamshire town. This unique snapshot of time, place and particularly southern English sensibility is a critique made is all the better for being, in its own odd way, quietly celebratory. Perhaps even some of the Paper Lantern's regulars might raise a glass and agree.—Luke Turner, THE QUIETUS

This elegiac debut... exerts a steady power, opening an unexpected conduit into the national psyche.—Anthony Cummins, DAILY MAIL

Full of acute social observations, it's a time capsule in the making.—Hephzibah Anderson, MAIL ON SUNDAY

Individual moments are presented as opportunities to recognise the self, the savour our individuality in the world, to experience rather than merely endure—Times Literary Supplement

A remarkable achievement in a book that feels at once timely and deeply considered, an antidote to the clickbait, flashing headline style of journalism that has, perhaps understandably, proliferated during the pandemic. From the first page, the insights come hard and fast. There is a pared-back lyricism and clarity to the writing, commentary that is both intelligent and sensitive to the surrounding world . . . The backbone of The Paper Lantern is the author's searing way of detailing the inequalities and issues of modern society . . . There are meticulous arguments on climate change, capitalism and class, particularly the "dull and rapacious middle class" . . . The careful attention to nature and community echo the novels of Sarah Moss—IRISH TIMES

Will Burns is a soulful English poet of the kind we don't make enough of, fiercely intelligent, sensitive to the tiniest nuances of politics or history, attentive to the light and shade of human relationships, constantly addressing ideas of landscape and place with gentle, warm introspection. He is a poet of the unglamorous artificial English homelands, honest about class, memory, unease and experience in a way that few contemporary writers are. He doesn't try and sound clever in the line, he shows across his whole body of work that he is truly wise—MAX PORTER