Operational Updates
Reopening for in-person browsing: JUNE 6
store hours: 12pm to 6pm everyday
We are still accepting online orders, as well as care package orders at this link.
New Customer Guidelines:
No Mask, No Entry. If you don't have a mask, knock on the door and a staff member will bring you one that you can keep.
Browse with intention. Don't touch every book in the store if you don't have to.
In order to ensure touchless checkout, we are not accepting cash at this time.
Only 7 customers are allowed in the store at one time.
No pets at this time.
Children need to be vigorously supervised; they cannot leave your side while you are browsing.
All seating areas are closed.
Our tea service is currently suspended, but you can still buy the tea leaves to make at home.
Shadow Blade (Paperback)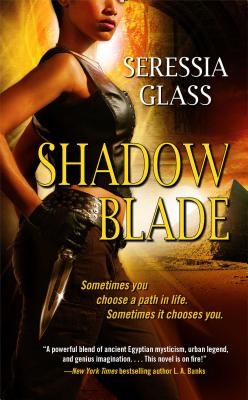 $21.99
Usually Ships in 1-5 Days
Description
---
Kira Solomon is unable to touch another living being—she draws off the energy of animate objects, "downloading" thoughts, emotions, memories...and, dangerously, draining the spirit. An antiquities specialist by day, she catalogs and defuses ancient magical artifacts; by night, she's a Shadowchaser—a bounty hunter in the eternal struggle against the Shadow of Chaos. When Kira comes across an ancient dagger that belongs to Khefar, a 4,000 year-old Nubian warrior, the sexual tension between the two builds, and a sinister evil sets its sights on them both.
About the Author
---
Seressia Glass has always been a voracious reader, cutting her teeth on comics, cereal boxes, and anything else at hand. Writing her own stories soon followed. After winning the national "Living the Dream" essay contest for the inaugural Martin Luther King, Jr. Holiday celebration in her hometown of Atlanta, Seressia realized her ability to move people with her words. Today, her fiction features diverse people realizing the universal dreams of love and acceptance. Stories have appeared recently in Vegas Bites: A Werewolf Romance Anthology edited by by bestselling author L. A. Banks and its sequels Vegas Bites and Vegas Bits Back. She's also published four romance novels, once of which, Through the Fire, was chosen for Black Expressions Book Club. Shadowblade is her fantasy debut. When not writing, Seressia is an instructional designer for an international home improvement company who loves to belly dance and watch anime.