The Brink: President Reagan and the Nuclear War Scare of 1983 (Paperback)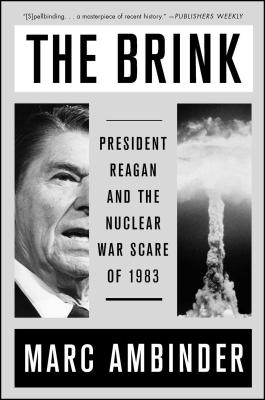 $18.00

NOT ON OUR SHELVES- available for order, usually ships in 1-5 days
Description
---
"An informative and often enthralling book…in the appealing style of Tom Clancy" (Kirkus Reviews) about the 1983 war game that triggered a tense, brittle period of nuclear brinkmanship between the United States and the former Soviet Union.

What happened in 1983 to make the Soviet Union so afraid of a potential nuclear strike from the United States that they sent mobile ICBMs (intercontinental ballistic missiles) into the field, placing them on a three-minute alert

Marc Ambinder explains the anxious period between the United States and the Soviet Union from 1982 to 1984, with the "Able Archer '83" war game at the center of the tension. With astonishing and clarifying new details, he recounts the scary series of the close encounters that tested the limits of ordinary humans and powerful leaders alike. Ambinder provides a comprehensive and chilling account of the nuclear command and control process, from intelligence warnings to the composition of the nuclear codes themselves. And he affords glimpses into the secret world of a preemptive electronic attack that scared the Soviet Union into action. Ambinder's account reads like a thriller, recounting the spy-versus-spy games that kept both countries—and the world—in check.

From geopolitics in Moscow and Washington, to sweat-caked soldiers fighting in the trenches of the Cold War, to high-stakes war games across NATO and the Warsaw Pact, "Ambinder's account of a serious threat of global annihilation…is spellbinding…a masterpiece of recent history" (Publishers Weekly, starred review). The Brink serves as the definitive intelligence, nuclear, and national security history of one of the most precarious times in recent memory and "shows the consequences of nuclear buildups, sometimes-careless language, and nervous leaders. Now, more than ever, those consequences matter" (USA TODAY).
About the Author
---
Marc Ambinder is a highly regarded reporter, DuPont award-winning television producer, and teacher at the University of Southern California's Annenberg School of Communication and Journalism. Ambinder was a White House correspondent for National Journal, the politics editor of The Atlantic, and an on-air analyst and consultant for CBS News. He spent four years at ABC News, covering politics and policy. Ambinder also consults for Fortune 100 companies on strategic and corporate communication. He lives in Los Angeles. He is the author of The Brink.