The Kennedy Connection: A Gil Malloy Novel (The Gil Malloy Series #1) (Paperback)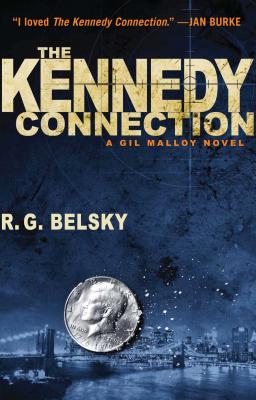 $17.00

NOT ON OUR SHELVES- available for order, usually ships in 1-5 days
Other Books in Series
This is book number 1 in the The Gil Malloy Series series.
Description
---
"An engrossing journalistic thriller."—Kirkus Reviews (starred review)

"Thought-provoking thriller...Loaded with tension and full of unexpected twists and turns."—Jan Burke, bestselling author and Edgar Award winner for Bones

"Extremely well-written tale of good vs. evil."—Huffington Post

Half a century after the assassination of President John F. Kennedy, someone is killing people on the streets of New York City and leaving behind a bizarre calling card of that tragic day in Dallas.

In this bold and entertaining thriller from a true media insider, discredited newspaper reporter Gil Malloy breaks the story of the link between seemingly unconnected murders—a Kennedy half dollar coin found at each of the crime scenes. At the same time, a man emerges who claims to be the secret son of Lee Harvey Oswald and says he has new evidence that Oswald was innocent of the JFK killing.

Malloy, who has fallen from grace at the New York Daily News and sees this as an opportunity to redeem himself as an ace reporter, is certain there is a connection between the Oswald revelations and the NYC murders, but first he has to get someone to believe him. Convinced that the answers go all the way back to the JFK assassination more than fifty years ago, Malloy soon uncovers long-buried secrets that put his own life in danger from powerful forces who fear he's getting too close to the truth.

Two tales of suspense fuse into an edge-of-your-seat thriller as Malloy races to stop the killer—before it's too late.
About the Author
---
R. G. Belsky, a journalist and author based in New York City, is the former managing editor of news for NBCNews.com. Prior to joining NBC in 2008, he was the managing editor for the New York Daily News, the news editor for Star Magazine, and the metropolitan editor of the New York Post. He is the author of the Gil Malloy mystery series, which began with The Kennedy Connection.
Praise For…
---
"Who better to tell the story of a newsman in disgrace –than a man from the New York tabloids, where disgrace was a badge of honor. Belsky has the news man's gift. He tells his story well."
— Jimmy Breslin

"The characters were so deftly drawn, and the story kept me turning the pages. Gil Malloy for President!"
— Donald Bain, bestselling author of the MURDER SHE WROTE mystery series and the MARGARET TRUMAN CAPITAL CRIME series

"Shrewd doses of competition, conspiracy and corruption fuel this intriguing media thriller linking a murder nobody cares about with America's most controversial assassination. Gil Malloy is a fresh take on the classic downtrodden reporter."
— Julie Kramer, national bestelling author of Delivering Death

"R.G. Belsky's thought-provoking thriller, The Kennedy Connection, introduces us to a smart, witty, and human hero whose quest to find answers about two crimes — one famous, one all but unnoticed — is loaded with tension and full of unexpected twists and turns. I loved The Kennedy Connection, and can't wait for the next Gil Malloy novel."
— Jan Burke

"If you like your heroes a bit flawed, your mysteries a bit untidy, and your dialog entirely hilarious, you'll love R.G. Belsky's The Kennedy Connection. In Gil Malloy, Belsky has created a character that you'll want to spend time with. I'm already looking forward to the next Gil Malloy story."
— Matthew Klein, author of No Way Back

An engrossing journalistic thriller inspired by the assassination of President John F. Kennedy.Two murders occur in different parts of New York City. The tenuous connection between them is the discovery of the uncommon Kennedy half dollar coin at both scenes. Police make little of it, but disgraced Daily News reporter Gil Malloy thinks it odd. Is a JFK-obsessed serial killer making a statement around the 50th anniversary of the president's murder? Malloy has already ruined his own reputation with a big prostitution story he seems to have fabricated, but "maybe we do get second chances in life," as he speculates. Lucky to still have a job, he persuades his editor that the Kennedy connection is worth pursuing. Meanwhile, a young man dies of a heart attack 15 years after being shot in the spine by an unknown assailant. Malloy promises the victim's mother he will investigate her son's shooting, but dazzled by the prospect of a journalistic coup, he spends all his time on the JFK case. He receives a Kennedy half dollar in the mail at his newsroom, and colleagues think he might have fabricated this detail to support yet another bogus story. A manuscript about the JFK assassination turns up, written by a previously unknown son of Lee Harvey Oswald. Malloy soon wonders whether Oswald, said to have been a mediocre marksman, could have been the lone gunman. Malloy and others face dire threats as he digs for the truth and displays his true character. Will this story blow up in his face as the hooker tale did? Author Belsky once worked at the Daily News and delivers a fast-moving and well-plotted yarn with twists the reader probably won't see coming. They're mostly bad news for Malloy, but that's good news for the reader. The truth about that awful day in November 1963 may never be known, but it's provided grist for a terrific story.
— Kirkus, starred review

New York reporter Gil Malloy has been publicly disgraced by the taint of a fabricated source (think Jayson Blair), but he still holds a position at the paper. Unexpectedly, his former literary agent pitches him a wild story; she knows a man who claims to be Lee Harvey Oswald's son and has proof that his father didn't assassinate President John F. Kennedy. Malloy shrugs this off, instead opting to help Roberto Santiago, an old police detective friend who is convinced that a long-ago shooting case was a police cover-up. Santiago dies shortly after in a hit-and-run accident, and Malloy gets distracted by a more glamorous case. A photographer named Shawn Kennedy has been murdered, with a Kennedy half-dollar left next to her body. A second killing occurs, and another Kennedy half-dollar is left on the scene. Suddenly, knowing more about Oswald Jr. becomes imperative. Muscling his way into the spotlight, Malloy fails to see key clues connecting his two stories. Meanwhile, the body count increases. VERDICT Belsky's (Playing Dead) quick read has unexpectedly clever twists, perfect for the conspiracy-oriented reader. The first-person narrative keeps the tone personal.
— Library Journal

A disgraced reporter tries to turn his career around with a story that could solve the 50-year-old assassination of JFK. A literary agent tells reporter Gil Malloy about a man who claims to be the illegitimate son of Lee Harvey Oswald. The man believes he has a solid alibi for his father on November 22, 1963. While Malloy tries to prove the man's claims, a murderer is running amok in Manhattan, leaving his victims with Kennedy half-dollars by their bodies. Are the killings related to the events of the past? Belsky's tale adds another intriguing alternative interpretation of the Kennedy assassination and will appeal to those who just can't leave the grassy knoll alone.
— Jeff Ayers, Booklist

If you are intrigued by the Kennedy assassination and love a bold thriller, this book is for you. Gil Malloy, once the best journalist at The New York Daily News, has been disgraced by botched-up coverage of a big story. With his integrity questioned by everyone he knows, he now fights to prove that three recent murders are connected by the appearance of a Kennedy half-dollar at each crime scene. At the same time, a man claiming to be the secret son of Lee Harvey Oswald breaks his silence on the fiftieth anniversary of Kennedy assassination. Gil is on the fast track to redeem himself when it all threatens to fall apart again. Can he find the real executioner and find the truth about the events that occurred in Dallas fifty years ago? The edge-of-your-seat suspense continues to the unexpected climax. Very entertaining.
— Mysterious Galaxy Bookstore, San Diego

"Veteran newspaperman Belsky — a former metro editor at The Post — spins a great tabloid yarn that not only puts a serial killer on the front page, but also has flawed reporter Gil Malloy trying to solve the mystery of JFK's assassination."
— New York Post

"THE KENNEDY CONNECTION is a surprise, to say the least. Veteran newspaper and television journalist R. G. Belsky returns to the mystery shelves after an extended absence with a new character in the form of Gil Malloy and a new novel in which all of the gears mesh together so nicely that what might have been a merely competent work becomes a title that deserves to be shortlisted for the year-end best-of lists. Yes, it is that good."
— BookReporter.com

"Extremely well-written tale of good vs. evil."
— Holly Cara Price

The Kennedy Connection begs to be finished from the first page to the last. Be prepared to stay at home all day with this book in hand!"
— Briana Goodchild, reviewer, Killer Nashville Writers' Conference