Operational Updates
Click HERE for the most updated hours, customer guidelines and updates to store policy.
The Last Castle: The Epic Story of Love, Loss, and American Royalty in the Nation's Largest Home (Paperback)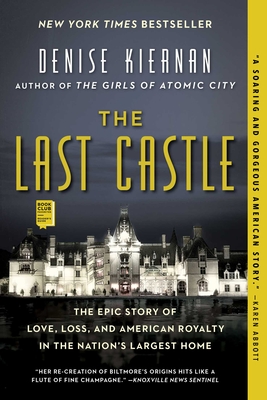 $18.00

NOT ON OUR SHELVES- available for order, usually ships in 1-5 days
October 2017 Indie Next List
---
"Most of us who visit the Biltmore are awestruck by its beauty and grandeur. Kiernan now gives us the fascinating history of the people who built and cared for it, from George Vanderbilt, who had the vision to create this wonder, to his team, which included Frederick Law Olmstead, a nationally known landscape architect, and Richard Morris Hunt, who designed and built the house, along with so many others who contributed to the Biltmore's legacy. The Last Castle is a beautifully researched book, and I thoroughly enjoyed watching the adventure unfold. A great history that has motivated me to make another trip to Asheville! Loved it!"
— Stephanie Crowe, Page & Palette, Fairhope, AL
Description
---
A New York Times bestseller with an "engaging narrative and array of detail" (The Wall Street Journal), the "intimate and sweeping" (Raleigh News & Observer) untold, true story behind the Biltmore Estate—the largest, grandest private residence in North America, which has seen more than 120 years of history pass by its front door.

The story of Biltmore spans World Wars, the Jazz Age, the Depression, and generations of the famous Vanderbilt family, and features a captivating cast of real-life characters including F. Scott Fitzgerald, Thomas Wolfe, Teddy Roosevelt, John Singer Sargent, James Whistler, Henry James, and Edith Wharton.

Orphaned at a young age, Edith Stuyvesant Dresser claimed lineage from one of New York's best known families. She grew up in Newport and Paris, and her engagement and marriage to George Vanderbilt was one of the most watched events of Gilded Age society. But none of this prepared her to be mistress of Biltmore House.

Before their marriage, the wealthy and bookish Vanderbilt had dedicated his life to creating a spectacular European-style estate on 125,000 acres of North Carolina wilderness. He summoned the famous landscape architect Frederick Law Olmsted to tame the grounds, collaborated with celebrated architect Richard Morris Hunt to build a 175,000-square-foot chateau, filled it with priceless art and antiques, and erected a charming village beyond the gates. Newlywed Edith was now mistress of an estate nearly three times the size of Washington, DC and benefactress of the village and surrounding rural area. When fortunes shifted and changing times threatened her family, her home, and her community, it was up to Edith to save Biltmore—and secure the future of the region and her husband's legacy.

This is the fascinating, "soaring and gorgeous" (Karen Abbott) story of how the largest house in America flourished, faltered, and ultimately endured to this day.
About the Author
---
Denise Kiernan is the author of The New York Times and The Wall Street Journal bestseller The Last Castle. Her previous book, The Girls of Atomic City, is a New York Times, Los Angeles Times, and NPR bestseller. Kiernan has been published in The New York Times, The Wall Street Journal, The Village Voice, Ms., Reader's Digest, Discover, and many more publications. She has also worked in television, serving as head writer for ABC's Who Wants to Be a Millionaire during its Emmy award–winning first season and producing for media outlets such as ESPN and MSNBC. She has been a featured guest on NPR's "Weekend Edition," PBS NewsHour, MSNBC's Morning Joe, and The Daily Show with Jon Stewart.
Praise For…
---
"The Last Castle is a soaring and gorgeous American story that gripped me from the very first page. With a historian's keen insight and a poet's gift for language, Denise Kiernan depicts life at Biltmore with such skill, I felt like I was there through it all: weddings, divorces, elaborate (and slightly bizarre) balls, financial glory, financial ruin, murder, suicide, natural disasters, betrayals, love, loss, despair, and triumph. The story of George and Edith Vanderbilt's remarkable lives will stay with me for a long time to come."


— Karen Abbott, New York Times bestselling author of Liar, Temptress, Soldier, Spy

"If you inherited billions, how would you spend it? Don't bother building America's largest and most lavish home. It's already been done in the Blue Ridge Mountains of North Carolina, where more than a million visitors a year stroll the grounds of Biltmore Estate. Yet only in the pages of Denise Kiernan's The Last Castle will they come to know George Vanderbilt, the bookish heir who began Biltmore in his 20s, and his determined widow, Edith, who kept it alive as a working estate and a time capsule of the Gilded Age. In the pages of The Last Castle, Kiernan serves up a true tale of American excess, generosity, and perseverance."
— Bill Dedman, New York Times bestselling author of Empty Mansions: The Mysterious Life of Huguette Clark and the Spending of a Great American Fortune

"This is as much a story about the creation of Biltmore House as it is a window into what it was like to be an American at the turn of the 20th century. Kiernan makes Edith and George Vanderbilt, among the wealthiest Americans at the time, feel like living, breathing human beings navigating life's obstacles in this magnificent book. And she tells the story of how one fiercely devoted woman was able to save the home her husband loved."
— -Kate Andersen Brower, author FIRST WOMEN: The Grace & Power of America's Modern First Ladies and THE RESIDENCE: Inside the Private World of the White House

"The rich have secrets. In her well-researched and captivating book, Denise Kiernan tells the fascinating story of how a phenomenally wealthy Vanderbilt scion transformed a rural North Carolina town by building the ultimate rich man's folly and reveals the eccentricities, heartaches, and even money problems of these Social Register denizens and their friends and employees."
— Meryl Gordon, author of Bunny Mellon: The Life of an American Style Legend

"This is a timely and timeless American story of wealth and the responsibility and opportunity it carries. In Kiernan's hands, this mashup of Downton Abbey-like extravagance set amid the "rugged mountain simplicity" of Appalachia reads like a Southern fairy tale — Brothers Grimm meets Gone with the Wind. A passionately researched family saga of death and divorce, suicide and sickness, fortunes gained and lost, spanning two world wars and set at the crux of the Gilded Age yielding to the modern era, The Last Castle is ultimately a story of fortitude and survival. A stunning and important achievement."
— Neal Thompson, author of A Curious Man: The Strange and Brilliant Life of Robert "Believe It Or Not!" Ripley

"Ms. Kiernan's research is prodigious....she brings the place to life. And she doesn't leave out the juicy bits from the family history: adultery, bankruptcy, suicide."
— The Wall Street Journal

"The book's vitality lies in the details [Kiernan] reveals about the architects, writers, artists and peers of the Vanderbilts who spent time at Biltmore."
— The New York Times Book Review

"Evocative, meticulously researched. . . Kiernan brings a deft eye for detail and observation to a very different kind of story. . . . Her re-creation of Biltmore's origins hits like a flute of fine champagne while lending social context to the mansion. . . . 'The Last Castle' is Edith Wharton's 'The Age of Innocence sprung to life. . . . Biltmore is an ideal vessel for an exploration of our worship of affluence and social cachet, and more importantly, the American myth of classlessness. 'The Last Castle' plumbs these themes and history with subtle insight and élan. "


— Knoxville News-Sentinel

"But reading The Last Castle, the flowing novel-like narrative really is 'about America.' It's about celebrity culture, wealth disparity, the remarkable charity and foresight of a few wealthy people, the urge to create and maintain a family legacy and, in its darker moments, the ever-present potential for personal tragedy. It's grounded in Kiernan's years of globe-trotting research and yet also immediately relevant to the topics that clog social media in 2017."
— Asheville Citizen-Times

"A story that brings the glitz and glamour of the British royal family to American soil.... Reigning royalty of the Gilded Age, Edith and George Vanderbilt, and their lifetime of financial excess, ruins, scandal, and perseverance come alive on these pages.
— RealSimple.com

"A story that is both intimate and sweeping."
— Raleigh News & Observer

"This is fantastic stuff...."
— Atlanta Journal-Constitution

"For those who couldn't get enough of 'Downton Abbey,' 'The Last Castle' might satisfy that desire to peer into the lives of wealthy members of the reigning elite."
— Bookreporter.com

"Intriguing . . . With plenty of famous characters sprinkled throughout, there is enough action and history to keep readers engaged and eager to turn the pages... Kiernan fans and those new to her work are sure to devour this latest volume."
— Library Journal

"The many diverting detours Kiernan takes make the book enticing for even those who will never set foot on Biltmore grounds."
— Booklist

Kiernan evokes the grandeur of Biltmore House...the starring character in this fascinating look at the creation of the largest private home built in the United States.
— Shelf Awareness for Readers

"Denise Kiernan's book offers an entertaining and meticulously researched glimpse into faded grandeur.... The Last Castle will appeal to audiences who delighted in Downton Abbey and who look forward to its creator Julian Fellowes's new series—aptly titled The Gilded Age."
— The Weekly Standard