Operational Updates
Click HERE for the most updated hours, customer guidelines and updates to store policy.
The Spy Across the Table (A Jim Brodie Thriller #4) (Hardcover)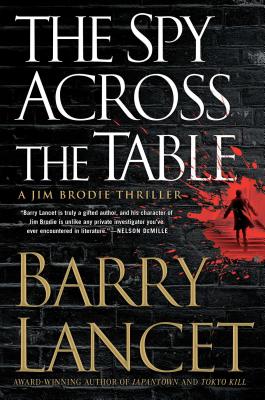 Other Books in Series
This is book number 4 in the A Jim Brodie Thriller series.
Description
---
In this exciting international thriller featuring Japanese antiques art dealer and PI Jim Brodie, a double-murder at the Kennedy Center forces Brodie into a dangerous game of espionage—putting him in the crosshairs of the Chinese, North Korean, and American governments.

Jim Brodie is an antiques dealer, Japan expert, and second-generation private investigator. When two theater friends are murdered backstage at a Kennedy Center performance in Washington, DC, he's devastated—and determined to hunt down the killer. He's not the only one.

After the attack, Brodie is summoned to the White House. The First Lady was the college roommate of one of the victims, and she enlists Brodie—off the books—to use his Japanese connections to track down the assassin. Homeland Security head Tom Swelley is furious that the White House is meddling and wants Brodie off the case. Why? For the same reason a master Chinese spy known only as Zhou, one of the most dangerous men alive, appears on the scene: Those murders were no random act of violence.

Brodie flies to Tokyo to attend the second of two funerals, when his friend's daughter Anna is kidnapped during the ceremony. It is then Brodie realizes that the murders were simply bait to draw her out of hiding. Anna, it seems, is the key architect of a top-secret NSA program that gathers the personal secrets of America's most influential leaders. Secrets so damaging that North Korea and China will stop at nothing to get them.

Publishers Weekly said, "Readers will want to see more of the talented Jim Brodie," and The Spy Across the Table is an edge-of-your-seat thriller in Barry Lancet's wildly popular and highly acclaimed series.
About the Author
---
Barry Lancet is a Barry Award­–winning author and finalist for the Shamus Award. He has lived in Japan for more than twenty-five years. His former position as an editor at one of the nation's largest publishers gave him access to the inner circles in traditional and business fields most outsiders are never granted, and an insider's view that informs his writing. He is the author of the Jim Brodie series: The Spy Across the Table; Pacific Burn; Tokyo Kill; and Japantown, which received four citations for Best First Novel and has been optioned by J.J. Abrams's Bad Robot Productions, in association with Warner Brothers. Visit Lancet at BarryLancet.com or on Twitter @BarryLancet.
Praise For…
---
"Barry Lancet's The Spy Across the Table is the perfect combination of mystery novel and espionage thriller wrapped into one. A skillfully written tale with gritty action sequences and a crafty plot that has hero Jim Brodie racing to unravel a conspiracy with geopolitical consequences from Washington to the Pacific Rim, Lancet's latest offering is sure to thrill readers from the first page to the last."—Mark Greaney, #1 New York Times bestselling author of Gunmetal Gray

"As usual in a Lancet novel, the action scenes are first-rate—and violent—and the knowledge the author imparts about Asian politics and culture is deep. A solid, consistently smart thriller."—Kirkus Reviews

"Lancet's The Spy Across The Table is a masterful novel—a thriller ripe with intrigue, action, and heart."—Reed Farrel Coleman, New York Times bestselling author of What You Break

"Lancet uses his insider's knowledge of Japanese culture to great advantage, giving the book a natural, realistic flavor. Brodie is, as always, a strong lead, and the book has some very nice twists. A strong entry in a consistently reliable series."—Booklist

"Lancet keeps the suspense high through the exciting climax…in this faced-paced fourth thriller featuring Japanese antiquities expert Jim Brodie."—Publishers Weekly

"If you like your thrillers fusing espionage with murder mysteries, set in locations vividly described, and moving at a fast, dense clip with more twists and turns than many another author's entire canon might provide, The Spy Across the Table should be very diverting summer reading."—Bookpleasures

"Along with lots of good old-fashioned mayhem, Lancet does a fine job on the complexities of electronic espionage — hacking, eavesdropping, GPS tracking, eye-in-the-sky surveillance, biometrics and the like. Readers who can't keep up with the tech lingo and almost nonstop action might find the whole thing a bit overwhelming. But those who thrive on complex, tightly written thrillers are more likely to call it a tour-de-force."—The Japan Times

"The hottest read of the summer season, if not the whole year…. The threats, suspense, double crosses and heart-stopping thrills never end in this chilling and realistic masterpiece that could be tomorrow's international news. If you're a fan of Flynn, Meltzer, or Dan Brown, you'll be all-in with enthusiasm for Barry Lancet and his good guy PI, Jim Brodie. He's tough, unusual, honest and absolutely awesome!"—Mysterious Book Report (John Dwaine McKenna)

"Barry Lancet is one of the few authors who can entertain and teach you something at the same time, hooking readers deeper and deeper as the story unfolds. That, combined with the fact that Brodie confronts threats that are relevent in today's world, makes The Spy Across the Table a whole lot of fun to read!"—The Real Book Spy (Ryan Steck)

"Once again, Barry Lancet delivers a superb story that is worthy of praise. The plot is unpredictable and keeps the reader in suspense until the very last page…. An extremely captivating spy thriller."—Seattle Book Review

"Novelist Barry Lancet's Jim Brodie is back with a fourth installment in the thriller series with The Spy Across the Table. The latest book about Brodie, an American art dealer/security firm head/martial arts expert who was raised in Japan, lived up to my high expectations."—Honolulu Star-Advertiser

"The action, as always when it comes to this fantastic character, never stops. Readers who have been waiting for the next Jim Brodie thriller to appear will not be disappointed." —Suspense Magazine

"As always, Lancet is skillful with realistic characterization and vivid action scenes… Each book in this phenomenal series is interesting, thought-provoking and educational, which, I believe, makes them some of the best thrillers in the genre."—Fresh Fiction

"A craftily plotted storyline accompanied by staccato paced action scenes explodes into a dynamic ending. A plentiful feast of suspense, mystery and intrigue!" —Top-Shelf Magazine

"The taut thriller is full of surprises, and keeps the double- and triple-crosses going almost until the very last page. At the same time, it provides plenty of local color and intriguing cultural and historical details without falling into the trap of exoticizing its foreign locations and characters."—Tokyo Weekender

"If you haven't read any of Lancet's other Brodie novels, you may find yourself wanting to by the time you're done with this one."—Japan Today