Overwatch: A Thriller (The Logan West Thrillers #1) (Mass Market)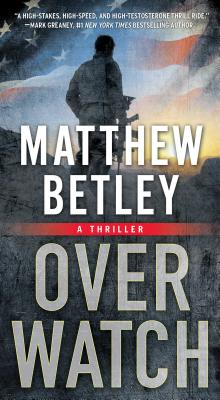 $9.99
Backordered or Out of Print
Other Books in Series
This is book number 1 in the The Logan West Thrillers series.
Description
---
"A former Marine himself, Betley proves himself an able heir to the throne held by the likes of Brad Thor and the late, great Vince Flynn....Not to be missed" (The Providence Journal).

When Logan West impulsively answers a dead man's ringing phone, he triggers a global race against the clock to track down an unknown organization searching for an Iraqi artifact that is central to a planned attack in the Middle East—one that will draw the United States into a major conflict with Iran.

Logan, a former Marine officer, is quickly contracted as a "consultant" to assist the FBI as part of a special task force bent on stopping the shadowy operatives, whatever the cost. The battles are nonstop, from the plains of the Midwest, to mansions in northern Mexico, to the war-torn Al-Anbar province, pitting an international team against trained mercenaries employed by the world's largest private security contractor...whose owner has a personal vendetta against the US government. Meanwhile, Logan is battling his own demons, especially the trauma of the ambush that his Force Recon unit suffered at an insurgent torture compound in Fallujah in 2004, which threatens to destroy everything he holds dear.

With high-stakes and fully-realized characters, Overwatch is a thriller unlike any you've read before: deftly plotted, up-to-the-minute, and impossible to put down.
About the Author
---
Matthew Betley is a former Marine officer of ten years. His experience includes deployments to Djibouti after September 11, and Iraq, prior to the surge. A New Jersey native who considers Cincinnati home, he graduated from Miami University in Oxford, Ohio, with a BA in psychology and minors in political science and sociology.
Praise For…
---
"A gripping, fast-paced, and frighteningly real tale told with bravado and expertise by someone who was there! Wall to wall action from start to finish. You will not put this book down!"
— Christopher Reich, #1 New York Times bestselling author

"As a former Marine, Betley really knows his stuff. Fans of nonstop, nail-biting action will love this one!"
— Kyle Mills, #1 New York Times bestselling author

"Matthew Betley has proven he's an accomplished writer. Overwatch is a brilliantly conceived thriller that surges from the first chapter through mounting deception to a powerful conclusion."
— Clive Cussler, #1 New York Times bestselling author

"Matthew Betley's Overwatch crackles with authenticity. You wonder how much of it is true."
— Matthew Reilly, Author of Ice Station, Seven Deadly Wonders, and The Great Zoo of China

"Bridging the gap between first-hand military experience and thrilling fictional adventure story, Overwatch is a great read for veterans and non-veterans alike."
— General (Retired) Stan McChrystal, former Commander, Joint Special Operations Command (JSOC)

"Matthew Betley bursts onto the stage with a thriller that dares you to put it down. It is rare to find a debut novel that keeps you up all night, furiously flipping pages, but Overwatch does that- and more."
— Joshua Hood, author of CLEAR BY FIRE

"Overwatch is an exceptional read - a thoroughly engrossing thriller that reminds us of battles fought and threats we still face. We might have expected from Matthew Betley the gripping battlefield accounts that could only come from a seasoned warrior. But the humanity of its characters and the relentless drive of its narrative will make readers impatient for Betley's next book."
— Stephen Hayes

"Betley has made Logan someone readers can relate to and feel for. He's human, like the rest of us. In a genre where most protagonists are a pair of tights and a cape away from being Superman, this is a welcomed and refreshing change of pace....Overwatch is my early pick for the best debut novel of 2016!"
— The Real Book Spy