Deception Cove (Rainshadow Novels) (MP3 CD)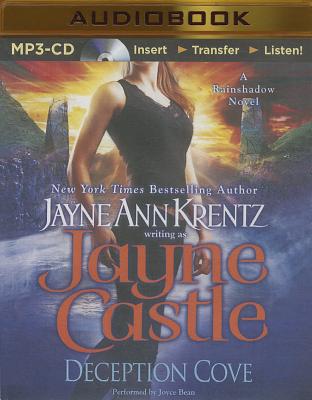 $9.99
Backordered or Out of Print
Other Books in Series
Description
---
In the world of Harmony, Rainshadow Island is home to a mysterious preserve, secrets that have been kept for centuries, and a treasure worth killing for....
As a light-talent, Alice North has the rare ability to make things disappear, including herself--a gift that comes in handy during her magic act with her dust bunny Houdini.
Business mogul Drake Sebastian is day-blind, since his sight was nearly destroyed in a lab accident. But he's the one man who can see Alice when she disappears--and he needs her.
On Rainshadow Island, two dangerous Old World crystals are missing, igniting a paranormal storm. Drake thinks Alice is the key to finding them, and proposes they head there, but only after a Marriage of Convenience.
Alice's honeymoon on Rainshadow is guaranteed to be memorable, as the island--and the passion between her and Drake--is about to explode....
Praise for The Lost Night
" Castle] has created a fully imagined futurist world in Harmony." --The Seattle Times
"Thrilling twists and turns...another stellar romance from one of the genre's most consistently entertaining writers." --Booklist (starred review)