Nothing to Fear (Mass Market Paperbound)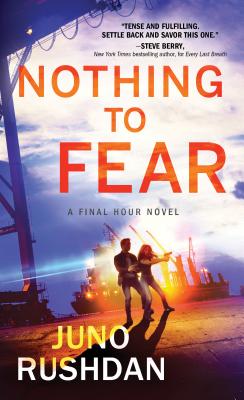 $7.99
Backordered or Out of Print
Description
---
A thrilling romantic suspense wrapped in mystery and intrigue from acclaimed author Juno Rushdan. The countdown has begun and time is running out--the final hour is upon them...
Fearsome Gray Box operative Gideon Stone is devoted to his work and his team. He's never given anyone reason to doubt his loyalty...until he's tasked with investigating Willow Harper, a beguiling cryptologist suspected of selling deadly bio-agents on the black market.
Willow claims she's innocent--that she has nothing to prove--and despite himself, Gideon believes her. He also knows that without him, Willow will be dead before sunrise.
Thrust into the crossfire of an insidious international conspiracy, Gideon will do anything to keep Willow safe...even if that means waging war against his own. With time running out, an unlikely bond pushes limits--and forges loyalties. Every move they make counts. And the real traitor is always watching...
Praise for Juno Rushdan's Every Last Breath:
"Tense and fulfilling. Settle back and savor this one."--STEVE BERRY, New York Times bestselling author
"Fast-paced, intense, and sexy--a must-read romantic suspense "--CYNTHIA EDEN, New York Times and USA Today bestselling author
"A fast-paced, spine-tingling thriller you won't want to put down "--LAURA GRIFFIN, New York Times bestselling author
"An unputdownable thrill ride."--LEXI BLAKE, New York Times bestselling author
"A romantic thriller that handily juggles emotional intensity and a heart-pounding, James Bond-ian adventure."--Kirkus