Whiteout (Survival Instincts) (Mass Market)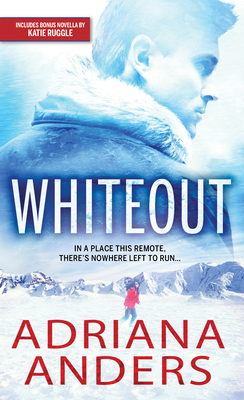 Other Books in Series
This is book number 1 in the Survival Instincts series.
Description
---
Brace yourself for this fast-paced romantic suspense full of fan-favorite tropes:
Forced proximity (forget only one bed—there's only one sleeping bag!)
Survival romance
Locked box suspense
Grumpy/Sunshine goodness
And scorching, brain-melting heat despite the freezing Antarctic setting
With a storm coming and a killer on the loose, every step could be their last…
Angel Smith is finally ready to leave Antarctica for a second chance at life. But on what was meant to be her last day, the remote research station she's been calling home is attacked. Hunted and scared, she and irritatingly gorgeous glaciologist Ford Cooper barely make it out with their lives…only to realize that in a place this remote, there's nowhere left to run.
Isolated with no power, no way to contact the outside world, and a madman on their heels, Angel and Ford must trust their instincts and fight to survive in the most inhospitable—and beautiful—place on earth. But what starts as a partnership born of necessity quickly turns into an urgent connection that burns bright and hot. They both know there's little chance of making it out alive, and yet they are determined to weather the coming storm—no matter the cost.
Praise for Whiteout:
"Scorching hot and beautifully emotional."—LORI FOSTER, New York Times Bestselling Author
"Adriana Anders brings twisted intrigue and sizzling passion hot enough to melt the ice in Whiteout! Sexy, smart, and tough characters in a beautifully ice-cold landscape will grab you from the first line and keep you along for a wild ride to the very end."—REBECCA ZANETTI, New York Times Bestselling Author
"Strong heroines, sizzling tension. Heart and heat abound!"—MOLLY O'KEEFE, USA Today Bestselling Author
"The gripping characters, fresh writing, unique setting, and a villain as cold as the Antarctic itself, make this a fiercely enjoyable story."—TONI ANDERSON, New York Times and USA Today Bestselling Author
"Whiteout is an exhilarating story of survival and love against all the odds. I couldn't put it down!"—KATEE ROBERT, New York Times Bestselling Author
"What a thrill ride! The action is nonstop—I don't think I took a breath until I finished."—KATIE RUGGLE
"A thrilling chase across the desolate and changeable beauty of Antarctica. Adriana Anders is a master."—MARIA VALE
About the Author
---
Adriana Anders is the award-winning author of the Blank Canvas series. Under Her Skin, a Publishers Weekly Best Book of 2017, and winner of two 2018 Holt Medallions, has been featured in Bustle, USA Today Happy Ever After, and Book Riot. Today, she resides with her tall French husband and two small children in France, where she writes the gritty, emotional love stories of her heart.
Praise For…
---
"Scorching hot and beautifully emotional. A pulse-pounding, edge-of-your-seat read." — Lori Foster, New York Times Bestselling Author

"What a thrill ride! The action is nonstop—I don't think I took a breath until I finished." — Katie Ruggle

"A thrilling chase across the desolate and changeable beauty of Antarctica. Adriana Anders is a master." — Maria Vale

"Anders strikes an impressive balance between romance and page-turning suspense. Readers who crave high-stakes action mixed in with their romance will be taken by this consistently surprising adventure." — Publishers Weekly

"With suspenseful scenes and steamy moments that offer heartwarming relief to the story's tension, this book will entrance lovers of romantic suspense." — Library Journal

"Anders launches a new series with a bang...Heart-pounding sexual, emotional, and physical tension keep the suspense high and the pages turning." — Kirkus Reviews