Operational Updates
Reopening for in-person browsing: JUNE 6
store hours: 12pm to 6pm everyday
We are still accepting online orders, as well as care package orders at this link.
New Customer Guidelines:
No Mask, No Entry. If you don't have a mask, knock on the door and a staff member will bring you one that you can keep.
Browse with intention. Don't touch every book in the store if you don't have to.
In order to ensure touchless checkout, we are not accepting cash at this time.
Only 7 customers are allowed in the store at one time.
No pets at this time.
Children need to be vigorously supervised; they cannot leave your side while you are browsing.
All seating areas are closed.
Our tea service is currently suspended, but you can still buy the tea leaves to make at home.
Taming the To-Do List: How to Choose Your Best Work Every Day (Compact Disc)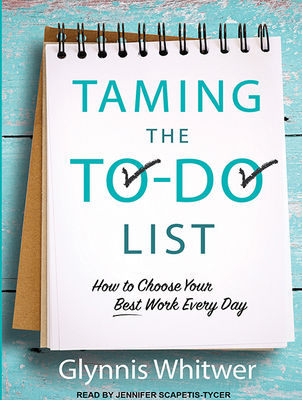 $29.99
Usually Ships in 1-5 Days
Description
---
No matter how hard women work or how much they accomplish in a day, there's lingering anxiety and guilt over what they didn't do. Glynnis Whitwer has identified what makes us feel so overburdened, and it's probably not what you think. Taming the To-Do List exposes a seismic shift in our society: from one in which most of us were proactive toward one where we now carry the burden of having to respond to every email, text, tweet, and message we receive. This major shift creates a cycle where everyone else sets the priorities for our days, rather than us designing our own lives. Taming the To-Do List addresses this significant change in how we manage our time and the issue of procrastination from a woman's point of view. Combining practical, easy-to-apply advice with solid research and biblical truth, this book is a compassionate yet challenging message of hope for those struggling to choose their best work over busy work.