Operational Updates
Reopening for in-person browsing: JUNE 6
store hours: 12pm to 6pm everyday
We are still accepting online orders, as well as care package orders at this link.
New Customer Guidelines:
No Mask, No Entry. If you don't have a mask, knock on the door and a staff member will bring you one that you can keep.
Browse with intention. Don't touch every book in the store if you don't have to.
In order to ensure touchless checkout, we are not accepting cash at this time.
Only 7 customers are allowed in the store at one time.
No pets at this time.
Children need to be vigorously supervised; they cannot leave your side while you are browsing.
All seating areas are closed.
Our tea service is currently suspended, but you can still buy the tea leaves to make at home.
Love Bites (MP3 CD)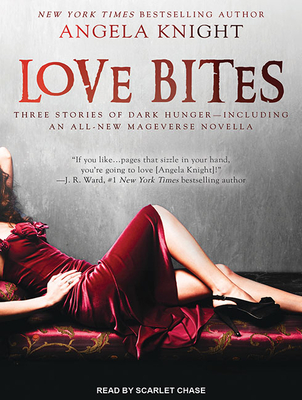 $29.99
Usually Ships in 1-5 Days
Description
---
In the brand-new "Oath of Service," Angela Knight returns to her Mageverse world for a new twist on the Arthurian legend. After a fight with a dragon goes wrong, Morgana le Fay takes an Oath of Service to Percival, vampire Knight of the Round Table, who decides to give Morgana a taste of bondage and submission she'll never forget. In "Be Careful What You Wish For," a beautiful vampire and her two vamp lovers lock horns with a wizard who has an ugly habit of refusing to take no for an answer. When he casts a spell on Beau and Decker, Amanda finds herself the object of both men's lust. In "The Bloodslave," a female mercenary comes under fire during a hunt. The beautiful, virginal, and very human Verica is captured by three hungry alpha vampires driven deliriously feral by her purity. But they desire more than her warm blood. They want her body, as well, leaving Verica more vulnerable than ever before-and loving every minute of it.Contains mature themes.