Operational Updates
Click HERE for the most updated hours, customer guidelines and updates to store policy.
No Loyalty (Mass Market)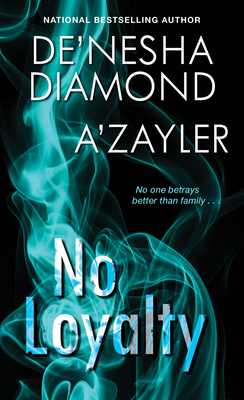 $8.99
Usually Ships in 1-5 Days
Description
---
Now available in mass market! Urban lit stars De'nesha Diamond and A'zayler join forces to bring you two gritty, sexy, suspenseful thrill rides in No Loyalty.

Dangerous Liasons by De'nesha Diamond

She's watching. She's planning. She's past done waiting. Klaudya Ramsey is out for revenge on her own mother. Nichelle seduced Klaudya's wealthy, disloyal husband, had her innocent daughter jailed--and stole her life. Now Klaudya plays on her mom's insatiable greed and her husband's gullibility to take them down hard. But a secret Klaudya never saw coming could turn her vengeful dream into an inescapable nightmare...

Tears of Blood by A'zayler

Their bond is unbreakable. They always have each other's backs--though that's the only thing identical twins Aiden and Kayden Lattimore have in common. So when hard-driving achiever Aiden accidentally gets in major-league trouble, Kayden does his brother's jail time for him. Too bad Aiden is taking care of Kayden's beautiful wife all too well. And now Kayden is about to teach Aiden a lesson in betrayal these brothers may not survive...
About the Author
---
De'nesha Diamond is the author of almost a dozen street lit novels and short stories, including the gritty Desperate Hoodwives tales. This edgy Memphis native aims to deliver hope in tales that walk the fine line between glorifying thug life and telling it like it is. Visit De'nesha online at DeneshaDiamond.com.

A'zayler is the author of thirty-three modern-day suspense filled dramas set in the city. Her novels detail the hidden lifestyles of fictional yet very relatable street characters. Readers interested in urban love stories that appeal to their hearts as well as their minds will swoon over A'zayler's dynamic writing. When she's not taking care of her family, online shopping, or working on her next project, you can find her at church or in a bookstore. Connect with A'zayler online at AzaylerInk.com, Facebook as Author A'zayler, and on Instagram as Author_Azayler.