Operational Updates
Click HERE for the most updated hours, customer guidelines and updates to store policy.
Elizabeth and Monty: The Untold Story of Their Intimate Friendship (Hardcover)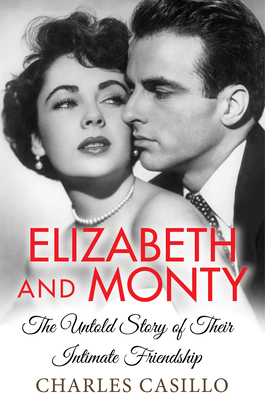 $27.00

NOT ON OUR SHELVES- available for order, usually ships in 1-5 days
Description
---
Violet-eyed siren Elizabeth Taylor and classically handsome Montgomery Clift were the most gorgeous screen couple of their time. Over two decades of friendship they made, separately and together, some of the era's defining movies--including Cat on a Hot Tin Roof, The Misfits, Suddenly, Last Summer, and Cleopatra. Yet the relationship between these two figures--one a dazzling, larger-than-life star, the other hugely talented yet fatally troubled--has never truly been explored until now.

"Monty, Elizabeth likes me, but she loves you." —Richard Burton

When Elizabeth Taylor was cast opposite Montgomery Clift in A Place in the Sun, he was already a movie idol, with a natural sensitivity that set him apart. At seventeen, Elizabeth was known for her ravishing beauty rather than her talent. Directors treated her like a glamorous prop. But Monty took her seriously, inspiring and encouraging her. In her words, "That's when I began to act."

To Monty, she was "Bessie Mae," a name he coined for her earthy, private side. The press clamored for a wedding, convinced this was more than friendship. The truth was even more complex. Monty was drawn to women but sexually attracted to men--a fact that, if made public, would destroy his career. But he found acceptance and kinship with Elizabeth. Her devotion was never clearer than after his devastating car crash near her Hollywood home when she crawled into the wreckage and saved him from choking.

Monty's accident shattered his face and left him in constant pain. As he sank into alcoholism and addiction, Elizabeth used her power to keep him working. In turn, through scandals and multiple marriages, he was her constant. Their relationship endured until his death in 1966, right before he was to star with her in Reflections in a Golden Eye. His influence continued in her outspoken support for the gay community, especially during the AIDS crisis.

Far more than the story of two icons, this is a unique and extraordinary love story that shines new light on both stars, revealing their triumphs, demons--and the loyalty that united them to the end.


Praise for Elizabeth and Monty
"Casillo weaves an engrossing story about the intertwined lives of his subjects—the parallel worlds of privilege that they came
from, the personal misfortunes that each suffered and the seemingly inextricable path that led to that fateful night. The author
approaches them both with sympathy and comes away with a melodrama as good as any that they ever starred in." —The New
York Times

"In a riveting new book that brings Hollywood's golden age to life with colorful, well-researched details and interviews with stars who knew Taylor and Clift, Casillo explores the intense bond the two shared." —People Magazine

"A new dual biography details a relationship that became a Hollywood legend." —Town & Country

"Their on-screen magic translated outside of the spotlight, and the duo enjoyed a long-lasting friendship that's explored in the new book Elizabeth and Monty: The Untold Story of Their Intimate Friendship by Charles Casillo...Classic movie buffs get a glimpse into their unique bond." —Southern Living

"As Casillo reveals in Elizabeth And Monty: The Untold Story Of Their Intimate Friendship, they had an intense, even romantic, relationship which, while never consummated, would weigh heavily on Taylor's life, propelling her into a string of misguided marriages." —Daily Mail UK

"So jammed packed with sex, pill-popping, alcoholism, affairs, breakdowns, suicide attempts and multiple brushes with death that most readers will want to read it in one greedy, high-caloric gulp. Readers may come for the nonstop scandals but what will keep them reading is Casillo's deeply empathetic and nuanced portrait of two Hollywood stars who forged a loving and loyal friendship." —Shelf Awareness

"Has the feel of a novel. A well-researched work that will appeal to readers who like their celebrity biographies juicy." —Library Journal

"In this dual biography, their intertwined lives and careers are recounted with new and vivid detail, and their #FriendshipGoals are considered from all angles by Casillo, the author of Marilyn Monroe: The Private Life of a Public Icon and Outlaw: The Lives and Careers of John Rechy. The book is incisive on the politics and personalities of bygone Hollywood, an understanding Casillo credits to friends like the late screenwriter and film historian Gavin Lambert (Inside Daisy Clover, The Roman Spring of Mrs. Stone)." —Everything Zoomer
About the Author
---
Charles Casillo is the author of the biographies Marilyn Monroe: The Private Life of a Public Icon and Outlaw: The Lives and Careers of John Rechy, as well as the novels The Fame Game and The Marilyn Diaries, and the short story collection Boys, Lost & Found. His profiles, short stories, articles, and reviews have appeared in The New York Times, The Los Angeles Times, New York Magazine, The Los Angeles Review of Books, and many others. He has appeared in Monroe documentaries such as Behind the Headlines: Marilyn and Her Men on Lifetime and Scandalous: The Death of Marilyn Monroe. His movies include Let Me Die Quietly and Fetish. He divides his time between New York and Los Angeles. Find him online at CharlesCasillo on Facebook and Twitter or @charles_casillo on Instagram.

Praise For…
---
Praise for Elizabeth and Monty

"Casillo weaves an engrossing story about the intertwined lives of his subjects — the parallel worlds of privilege that they came from, the personal misfortunes that each suffered and the seemingly inextricable path that led to that fateful night.  The author approaches them both with sympathy and comes away with a melodrama as good as any that they ever starred in."
―The New York Times
 
"In a riveting new book that brings Hollywood's golden age to life with colorful, well-researched details and interviews with stars who knew Taylor and Clift, Casillo explores the intense bond the two shared."
―People Magazine
 
"A new dual biography details a relationship that became a Hollywood legend."
―Town & Country

"Their on-screen magic translated outside of the spotlight, and the duo enjoyed a long-lasting friendship that's explored in the new book Elizabeth and Monty: The Untold Story of Their Intimate Friendship by Charles Casillo. ….Classic movie buffs get a glimpse into their unique bond." ―Southern Living

"As Casillo reveals in Elizabeth And Monty: The Untold Story Of Their Intimate Friendship, they had an intense, even romantic, relationship which, while never consummated, would weigh heavily on Taylor's life, propelling her into a string of misguided marriages." ―Daily Mail UK

"So jammed packed with sex, pill-popping, alcoholism, affairs, breakdowns, suicide attempts and multiple brushes with death that most readers will want to read it in one greedy, high-caloric gulp. Readers may come for the nonstop scandals but what will keep them reading is Casillo's deeply empathetic and nuanced portrait of two Hollywood stars who forged a loving and loyal friendship." ―Shelf Awareness

"Has the feel of a novel. A well-researched work that will appeal to readers who like their celebrity biographies juicy." ―Library Journal

"In this dual biography, their intertwined lives and careers are recounted with new and vivid detail, and their #FriendshipGoals are considered from all angles by Casillo, the author of Marilyn Monroe: The Private Life of a Public Icon and Outlaw: The Lives and Careers of John Rechy. The book is incisive on the politics and personalities of bygone Hollywood, an understanding Casillo credits to friends like the late screenwriter and film historian Gavin Lambert (Inside Daisy Clover, The Roman Spring of Mrs. Stone)." ―Everything Zoomer


Praise for Marilyn Monroe: The Private Life of a Public Icon
 
"This biography from Casillo fleshes out the icon, telling Monroe's tale in great and often harrowing detail and showing how the notorious blond pin-up was smarter and shrewder than most realize, yet just as tragic as we knew."
―New York Post, "Most Unforgettable Books of 2018"
 
"A refreshing take on the complex and talented Monroe . . . .A+."
―Tulsa Book Review
 
"Casillo explores the myriad facets of Monroe's personality with a respectful but incisive eye . . . an intricately nuanced portrait of this misunderstood idol...A worthy addition to the Monroe canon."
—Booklist
 
"A well-written examination of the mystique of a woman who still fascinates decades after her untimely death."
―Publishers Weekly
 
"A deep dive into the model and screen legend's glamorous but troubled life . . . [Casillo] pays particularly sympathetic attention to her emotional journey . . . a compelling exploration of a beguiling film icon's life."
―Kirkus Reviews
 
"Extraordinary. . . . Castillo's sympathetic and psychologically nuanced Marilyn Monroe bio is compulsively readable and well researched."
―Shelf Awareness
 
"After all I've seen and heard about Marilyn Monroe, this book is a revelation, an earthy, empathic vision of a real woman who happened to be an ethereal goddess. Getting to know Charles Casillo's Marilyn made me feel a level of identification and understanding that was devastating and thrilling."
―Mary Gaitskill