Operational Updates
Click HERE for the most updated hours, customer guidelines and updates to store policy.
Love at First: An Uplifting and Unforgettable Story of Love and Second Chances (Paperback)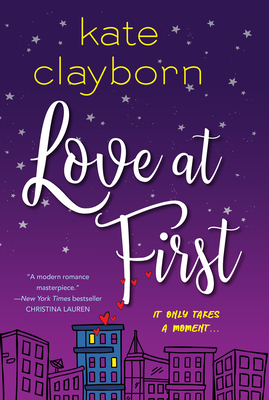 $15.95

Likely On Our Shelves Now
Description
---
"The most delightful cast of characters I've met in ages…a modern romance masterpiece." —New York Times bestseller Christina Lauren
 
"Constantly revealing new layers of lyricism…Love at First is poetry, then — sometimes an artful sonnet, other times halting free verse. But it's never anything short of miraculous." —Entertainment Weekly, Grade A
 
"At the end I was left with that warm, glowing love for humanity that is always what I'm chasing when I read this genre: the sense of togetherness, of hope, of even unsolvable problems feeling less impossible. Because a good romance lets you forgive the people on the page. A great romance lets you forgive people in general — and feel that maybe they even deserve it."—The New York Times
 
Buzzfeed Books to Add to Your TBR
Goodreads Hottest Romances of 2021
Frolic Best Books of Winter 2021
BookRiot Books for Coping with A COVID-19 Winter
SmexyBooks Most Anticipated Books
A Love So True Books Every Romance Fan Should Read
 
A sparkling and tender novel from the acclaimed author of Love Lettering, full of bickering neighbors, surprise reunions, and the mysterious power of love that fans of Christina Lauren, Sarah Hogle, and Emily Henry will adore.
 
Sixteen years ago, a teenaged Will Sterling saw—or rather, heard—the girl of his dreams. Standing beneath an apartment building balcony, he shared a perfect moment with a lovely, warm-voiced stranger. It's a memory that's never faded, though he's put so much of his past behind him. Now an unexpected inheritance has brought Will back to that same address, where he plans to offload his new property and get back to his regular life as an overworked doctor. Instead, he encounters a woman, two balconies above, who's uncannily familiar . . .
 
No matter how surprised Nora Clarke is by her reaction to handsome, curious Will, or the whispered pre-dawn conversations they share, she won't let his plans ruin her quirky, close-knit building. Bound by her loyalty to her adored grandmother, she sets out to foil his efforts with a little light sabotage. But beneath the surface of their feud is an undeniable connection. A balcony, a star-crossed couple, a fateful meeting—maybe it's the kind of story that can't work out in the end. Or maybe, it's the perfect second chance . . .
 
"Gorgeously written." —NPR
 
"A superb cast of characters rounds out this sweet, slow-burn romance." —Booklist
 
"A Mary Balogh–style love story…The comforting rewrite of Romeo and Juliet you didn't know you needed." —Kirkus Reviews
 
"Will and Nora's chemistry and the quirky side characters keep the pages turning. Clayborn's fans will be pleased." —Publishers Weekly
 
"Her beautiful prose is full of a softness and depth that lingers—passages beg to be reread and savored. Perfect for fans of Christina Lauren and Emily Henry, Love at First feels like a long, warm hug upon returning home." —Shelf Awareness
 
"A beautiful book and worth the painful beginnings…" —Smart Bitches, Trashy Books
 
"A beautifully understated but gloriously romantic love story full of poignancy and tenderness." —All About Romance
 
"Clayborn remains one of my favorite authors, and I can't wait to see what she will write next." —Frolic
About the Author
---
Kate Clayborn is the two-time RITAⓇ Award-nominated author of highly acclaimed romantic comedies, including Love Lettering, Love at First, and the Chance of a Lifetime series. Her novels have been named Best Romances of the Year by O, The Oprah Magazine, Entertainment Weekly, The Washington Post, Buzzfeed, Romper, and more. She lives in Virginia and can be found online at KateClayborn.com.
Praise For…
---
Praise for Love at First

"This steamy romantic comedy features a flawed but likable hero and heroine in a second-chance, enemies-to-lovers story…This well-written novel moves quickly, and readers will be unable to put it down. Highly recommended."
—Library Journal STARRED REVIEW

"LOVE AT FIRST is only my second book by Kate Clayborn, but she's now on my auto-buy list because both have been absolute stunners, written in a warm, witty, complex voice, and I cannot get enough. This one is a tear-jerker where, by Chapter 2, you are cheering for the characters to forgive themselves — because by that point you're already certain they deserve forgiveness as well as happiness. It's hard to make a romantic relationship feel fated, especially in a contemporary setting, but Clayborn does. I stayed up until 1 a.m. reading because I simply couldn't stand to go to sleep until Nora and Will resolved things. At the end I was left with that warm, glowing love for humanity that is always what I'm chasing when I read this genre: the sense of togetherness, of hope, of even unsolvable problems feeling less impossible. Because a good romance lets you forgive the people on the page. A great romance lets you forgive people in general — and feel that maybe they even deserve it."
—The New York Times
 
"Constantly revealing new layers of lyricism…Love at First is poetry, then — sometimes an artful sonnet, other times halting free verse. But it's never anything short of miraculous."
—Entertainment Weekly, Grade A
 
"This is a gorgeously written romance with a line that perfectly sums up a truth for many a romance character (or human): We don't have to love the way we learned to love at first."
—NPR
 
"Will and Nora's chemistry and the quirky side characters keep the pages turning. Clayborn's fans will be pleased."
—Publishers Weekly
 
"Clayborn explores the experience of falling in love in a Chicago apartment building in a contemporary romance that will resonate with city dwellers and rural readers alike…A superb cast of characters rounds out this sweet, slow-burn romance."
—Booklist
 
"A Mary Balogh–style love story…The comforting rewrite of Romeo and Juliet you didn't know you needed."
—Kirkus Reviews
 
"Clayborn employs her signature combination of past emotional wounds and tender blossoms of hope to gradually twine her two protagonists together, allowing them to--temporarily--live in denial even as they fall deeply in love. Her beautiful prose is full of a softness and depth that lingers--passages beg to be reread and savored--while moments of humor and gently smoldering passion lift what might otherwise be a slow and overly sentimental read. Perfect for fans of Christina Lauren and Emily Henry, Love at First feels like a long, warm hug upon returning home." —Shelf Awareness
 
"Kate Clayborn's Love at First is one of those books that you immediately feel has wrapped you up in a warm hug, and in which the characters and their story creep gradually and unobtrusively under your skin and wind around your heartstrings.  Ms. Clayborn is one of my few go-to contemporary romance authors, and this book demonstrates yet again exactly why that is; this is a beautifully understated but gloriously romantic love story full of poignancy and tenderness featuring fully-rounded, supremely relatable characters with ordinary, everyday lives and ordinary, everyday problems."
—All About Romance
 
"Clayborn remains one of my favorite authors, and I can't wait to see what she will write next."
—Frolic
 
"A beautiful book and worth the painful beginnings…"
—Smart Bitches, Trashy Books
 
"Kate Clayborn fed my romance reading soul with this book."
—The Infinite Limits of Love
 
"A thoughtful, almost whimsical novel about loss and letting go, moving on from painful pasts, and falling head over heels in love with your supposed nemesis, Kate Clayborn thoroughly charmed me with Love at First. Highly recommended."
—Harlequin Junkie
 
"Finding a home, a family, love; overcoming long-held fears; letting go of the past when change is scary – it's all here. And it is BEAUTIFUL."
—The Smut Report

Praise for Kate Clayborn
 
"A novel of lush complexity, one bursting with humor, a tender melancholy, and meditations on love, friendship, and life, any reader can find solace and inspiration in. It's lyrical and engrossing, a novel that possesses all the colors, idiosyncrasies, and range of the alphabet. Like the pages Meg designs, Love Lettering is a novel bursting with hidden messages essential to discover—long as we open our hearts to analyze the codes."
—Entertainment Weekly, A+ for Love Lettering
 
"Quirky and winning."
—USA Today on Love Lettering
 
"Fresh, funny, clever, and deeply satisfying."
—Kirkus Reviews, STARRED REVIEW on Love Lettering
 
"Love Lettering does much more than just give us a cute love story. The novel isn't just about love—it's about communication both in romantic relationships and in friendships."
—Hypable on Love Lettering

"I flew through this creative and original book. I was completely absorbed by the world Kate Clayborn creates—the characters felt so real and their joys and sorrows and struggles and triumphs felt so relatable that I forgot I was reading fiction."
—Jasmine Guillory, New York Times bestselling author of The Proposal on Love Lettering
  
"Love Lettering is delicious and beautiful and perfect."
—New York Times bestselling author Sarah MacLean on Love Lettering
 
"What if you and your two best friends all went in together on a winning lottery ticket? The romance between Kit, a no-nonsense scientist who dreams of her first real home, and Ben, a recruiter and builder (I promise, it works) is emotional and real. Plus, I adored Kit's strong relationship with her two best friends."
—O, The Oprah Magazine, Best Romances of the Year, on Beginners Luck
  
"A warm and lively romance"
—The New York Times on Luck of the Draw
  
"Clayborn's characters are bright and nuanced, her dialogue quick and clever, and the world she builds is warm and welcoming." 
—The Washington Post, 5 Best Romances of the Year for Luck of the Draw

"This book is hilarious and moving and sexy, with a focus on strong female friendship, guilt that's hard to let go of, and one of the most realistic, and ultimately romantic, fake fiance´ setups I've ever read."
—Buzzfeed,Best Romances of the Year, on Luck of the Draw
  
"Despite all the time we spend tethered to screens, the truth is that humans live with technology, not in it—at least for now. Kate Clayborn's Love Lettering is a flawless representation of that truth…a lush, languid romance that merges the nostalgic past with the technological present."
—The Washington Post on Love Lettering