Murder at the Spelling Bee (A Maya and Sandra Mystery #4) (Mass Market)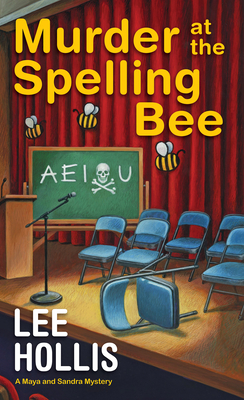 Other Books in Series
This is book number 4 in the A Maya and Sandra Mystery series.
Description
---
The murder of a moderator for a school competition spells trouble for Portland P.I. partners and moms Maya Kendrick and Sandra Wallage . . .

Twelve-year-old Rocco Fanelli is a spelling bee champ in the making. He's the odds-on favorite to win the local middle-school bee and go on to the regionals, the state, and ultimately the nationals. Which is why someone is trying to intimidate him to drop out with a threatening note in his locker. Rocco's concerned parents hire Maya and Sandra to uncover the culprit and ensure their son's safety.

But the competition turns killer when a high school teacher who's running the bee, clearly favoring certain students, is found dead in the school supply closet. Sandra had already confronted Ellie Lambert over unfairly grading her son Ryan—which now makes her a suspect.

She's not the only one who tangled with the teacher, however, and with suspects ranging from helicopter parents to the school custodian, Maya and Sandra will need to put their heads together to spell out who had the motive and opportunity to silence Ellie Lambert . . .
About the Author
---
Lee Hollis, the pen name for Rick Copp, is the author of the Desert Flowers Mysteries and the Maya and Sandra Mystery Series. He is also the co-author of the Hayley Powell Food & Cocktail Mysteries with his sister, Holly Simason. A veteran Hollywood screenwriter, he is the co-writer of The Brady Bunch Movie and has written for numerous television series, including The Golden Girls, Wings, Scooby-Doo, Teen Titans, and Barbershop. He also produces, writes, and stars in the hit web series Where the Bears Are. He lives in Palm Springs, California and can be found online at LeeHollisMysteries.com.
Praise For…
---
Praise for the Maya and Sandra Mysteries:
 
"The two leads, both strong women whose skills complement one another, make a good team. Sandra's quest for independence and legitimacy as a PI, Maya's and Sandra's desires to resolve their marital situations, family relationships between parents and teens, and the realities of a political life effectively frame this engaging cozy." —Booklist on Murder at the Bake Sale
 
"Crime abounds in a mystery with a ripped-from-the-headlines political angle and a surprising turn in the personal lives of both sleuths. With a diverse cast of characters, including Sandra's gay son, and the unusual political/school angles, the sequel to Murder at the PTA sets itself apart from most cozies." —Library Journal on Murder at the Bake Sale
 
"A most believable pair tackle a mystery ripped from the headlines." —Kirkus Reviews on Murder at the Bake Sale
 
"The backstories and lives of both women are well drawn, and Hollis has created two three dimensional and compelling characters. They have the kind of odd couple contrast that's always an appealing element in a mystery. I loved the clever way Hollis told her story, keeping things brisk and clear, with a surprisingly twisty denouement. This is a new series to keep an eye on." —Mystery Scene on Murder at the PTA
 
"As the two become a team, spicy Maya and sturdy Sandra discover a mutual respect that surprises them both and should delight fans of Maine stalwart Hollis. Cozy goes hard-boiled." —Kirkus Reviews on Murder at the PTA