In the Event of Love: A Delightful Second Chance Romance (Fern Falls #1) (Paperback)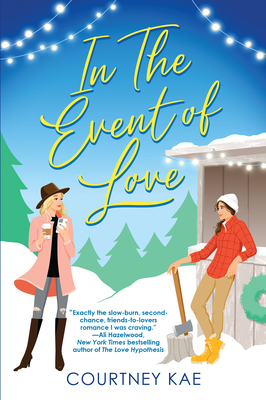 $16.95

Coming Soon - Available for Pre-Order Now
Other Books in Series
This is book number 1 in the Fern Falls series.
Description
---
Offering a steamy, queer spin on the feel-good tropes of a Hallmark movie, this sweet, funny #OwnVoices rom-com is perfect for fans of Casey McQuiston and Alexandria Bellefleur!

"Exactly the slow-burn, second-chance, friends-to-lovers romance I was craving." —Ali Hazelwood, New York Times bestselling author of The Love Hypothesis

"Perfect for the holidays!"—Helen Hoang, New York Times bestselling author of The Kiss Quotient

Goodreads Summer Romance Reading Recommendation
Buzzfeed's Most Anticipated LGBTQ Romances of 2022

With her career as a Los Angeles event planner imploding after a tabloid blowup, Morgan Ross isn't headed home for the holidays so much as in strategic retreat. Breathtaking mountain vistas, quirky townsfolk, and charming small businesses aside, her hometown of Fern Falls is built of one heartbreak on top of another . . .

Take her one-time best friend turned crush, Rachel Reed. The memory of their perfect, doomed first kiss is still fresh as new-fallen snow. Way fresher than the freezing mud Morgan ends up sprawled in on her very first day back, only to be hauled out via Rachel's sexy new lumberjane muscles acquired from running her family tree farm.

When Morgan discovers that the Reeds' struggling tree farm is the only thing standing between Fern Falls and corporate greed destroying the whole town's livelihood, she decides she can put heartbreak aside to save the farm by planning her best fundraiser yet. She has all the inspiration for a spectacular event: delicious vanilla lattes, acoustic guitars under majestic pines, a cozy barn surrounded by brilliant stars. But she and Rachel will ABSOLUTELY NOT have a heartwarming holiday happy ending. That would be as unprofessional as it is unlikely. Right?

"Delightful. Readers of all orientations will devour this rainbow-tinted confection." —Publishers Weekly STARRED REVIEW

"A well-written fast-paced debut, with fun banter and narrative; readers looking for a sweet and spicy holiday romance won't be disappointed." —Library Journal
About the Author
---
Courtney Kae is the author of sweet and steamy romance novels that give her bi little heart great joy. She lives in Southern California with her husband, child, and growing hoard of plants. Find her on Twitter and Instagram at @court_kae and online at CourtneyKaeBooks.com.


Praise For…
---
Praise for In the Event of Love

"Courtney Kae puts a sapphic twist on the classic "big city girl saves a small town" in cozy, holiday romance, "In the Event of Love." —Popsugar

"Kae's delightful debut elevates the popular Christmastime trope of someone from the big city saving a small town from a heartless developer in a feel-good queer second-chance romance…Kae leans heavily into holiday magic without letting things get saccharine, balancing the sweetness of reconnection with steamy eroticism grounded in the feeling of coming home at last. The secondary characters also sparkle, providing cozy feelings of community and support. Readers of all orientations will devour this rainbow-tinted confection." —Publishers Weekly, STARRED REVIEW
 
"This steamy second-chance queer romance is told from Morgan's point of view, and her character arc is a believable journey from prickly protagonist to someone readers will cheer for. Rachel is a well-developed love interest, and the chemistry between them sizzles from the beginning…A well-written fast-paced debut, with fun banter and narrative; readers looking for a sweet and spicy holiday romance won't be disappointed." —Library Journal

"Full of swoony steam, heartfelt charm, and laugh-out-loud moments, In the Event of Love is exactly the slow-burn, second-chance, friends-to-lovers romance I was craving. Treat yourself to the beautiful magic of Courtney Kae's writing!" —Ali Hazelwood, New York Times bestselling author of The Love Hypothesis

"Courtney Kae's In the Event of Love is the small-town winter romance of my dreams; sparkling, pine-scented, and as beautifully atmospheric as the season itself. The sapphic slow-burn love story is both gorgeously soft and steamy, the feelings will wreck you, and the laugh-out-loud moments will make you want to text entire paragraphs to your best friend. A completely charming read for any time of year." —Lana Harper, New York Times bestselling author of Payback's a Witch
 
"With a slow burn that builds into a roaring fire, In the Event of Love is the coziest romance I've ever read. It's the perfect read for anyone who can't get enough Christmas." —Meryl Wilsner, author of Something to Talk About and Mistakes Were Made
 
"Courtney Kae's debut is filled with charm and the kind of irresistible voice that gripped me from the first page. In the Event of Love strikes the perfect balance between the festive sweetness of a Hallmark Christmas movie and the tension and heat I love in romance novels. I couldn't stop smiling." —Ruby Barrett, author of Hot Copy

"Sparkling with both humor and heat, In the Event of Love is a cozy, steamy, big-hearted romance that will have its readers reaching for a cup of cocoa while infusing them with the hope of true love and second chances." —Ashley Herring Blake, author of Delilah Green Doesn't Care

"In the Event of Love is the perfect holiday romance! It has small-town charm, second chances, a sexy lumber-lass, and the perfect mix of sweet and sexy. Reading it is like frolicking in the snow, only you don't have to get out from under your flannel blanket or put on boots. Move over, Stars Hollow. I'm moving to Fern Falls!" —Lacie Waldon, author of The Layover
 
"With its charming small town, snowy mountaintop kisses, and dreamy lesbian lumberjane, IN THE EVENT OF LOVE is perfect for the holidays!" —Helen Hoang, New York Times bestselling author of The Kiss Quotient
 
"Fresh, witty, and hilarious debut author Courtney Kae should be on your reading radar!" —Marina Adair, New York Times bestselling author

 "Wintry perfection, a cozy flannel blanket of a book that wraps its reader in the warmest hug, full of wish-they-were-real characters and off-the-charts sexual tension. [In The Event of Love] made me laugh, weep, and believe in the fairy-lit magic of second chances." —Rachel Lynn Solomon, bestselling author of The Ex Talk
 
"Courtney Kae's debut sparkles with humor and charm. A tender second chance at first love that will have you believing in the magic of the holiday season." —Sonia Hartl, author of Heartbreak For Hire

"Beautifully romantic and as cozy as a homemade quilt, In the Event of Love will make your heart soar." —Annette Christie, author of The Rehearsals
 
"Positively brimming with festive small-town heart, In the Event of Love is the perfect funny, sexy holiday rom-com. Move over, Santa - 'tis the season for sexy Sapphic lumberjanes!" —Dahlia Adler, author of Cool for the Summer
 
"In the Event of Love is ultra cozy, heart-meltingly sweet, and full of warm wit. Courtney Kae shines with a fresh, bright voice and supremely relatable characters including a dreamy lumberjane who instantly stole my heart!" —Rosie Danan, author of The Roommate
 
"With the delicious small-town reunion tension of Sweet Home Alabama and the deeply romantic childhood friends-to-lovers arc of Love & Other Words, In the Event of Love is about finding your way home in every sense of the word. This is a joyful, cathartic story to savor." —Ashley Winstead, author of Fool Me Once and In My Dreams I Hold a Knife
 
"A holly jolly delight! Courtney Kae's debut is a cinematic second chance romance that sparkles like a Christmas tree […] you'll fall in love with the small town of Fern Falls just as much as you fall in love with Morgan and Rachel." —Timothy Janovsky, author of Never Been Kissed
 
"Reads like a Hallmark Christmas movie and goes down like a mug of peppermint hot chocolate. Cozy, comforting, and surprisingly steamy–this is the queer Christmas story we deserve!" —Alison Cochrun, author of The Charm Offensive

"The heartwarming romance we've been waiting for that delivers on our favorite holiday tropes. Courtney Kae is my new autobuy!" —Saranna DeWylde, author of the Fairy Godmothers Inc. series
 
"Sweet as a cup of hot cocoa (with some spice mixed in), In the Event of Love is the feel-good, queer, second-chance holiday romance we've all been waiting for. With a charming, layered cast of characters, it will have you wanting to escape to quaint-yet-progressive Fern Falls alongside Morgan, Rachel, and the rest of the gang for a stroll through the trees and a treat from Peak Perk Cafe." —Anita Kelly, author of Love & Other Disasters
 
"In the Event of Love is the holiday romance of my dreams […] the sweetness of a Hallmark holiday movie, set in a town that rivals Schitt's Creek, with plenty of steamy scenes to heat things up! This is a delightful debut and I cannot wait to see what Kae does next!" —Falon Ballard, author of Lease on Love
 
"I was totally swept away by Courtney Kae's In the Event of Love. This tender, poignant, heartfelt debut is overflowing with warmth and atmosphere, with a cast of characters you can't help but fall in love with, and a steamy second-chance romance to swoon over." —Ava Wilder, author of How to Fake It in Hollywood