Murder at a London Finishing School (A Beryl and Edwina Mystery #7) (Hardcover)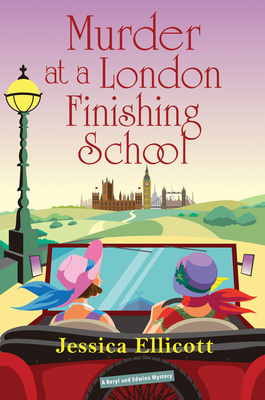 $27.00

NOT ON OUR SHELVES- available for order, usually ships in 1-5 days
Other Books in Series
This is book number 7 in the A Beryl and Edwina Mystery series.
Description
---
Long before American adventuress Beryl Helliwell and prim and proper Brit Edwina Davenport teamed up as enquiry agents to solve mysteries, they attempted to unravel the mysteries of deportment and elocution. Now it's back to school for the sleuths when murder strikes at their alma mater . . .

Neither Beryl nor Edwina are the least bit interested in attending events at their alma mater, Miss Dupont's Finishing School for Young Ladies. Their lives are very full indeed in the village of Walmsley Parva. However, when a letter arrives from Miss Dupont herself requesting their help in a professional capacity, they reluctantly pack their bags for London.

Upon arrival, they learn from Miss Dupont that her business has seen a steep decline since the days before World War I and that now she is concerned a saboteur is attempting to damage the school's reputation. Students have reported items missing, damaged possessions, and strange noises in the night. Some of the girls even insist ghostly forces are at play.

Then a former classmate of theirs and mother of a prospective student is found dead on the school grounds. The roll call of suspects is long, and if Beryl and Edwina are to have a ghost of a chance of solving the murder, they can't rule out the possibility that Miss Dupont herself may have finished off the victim . . .
About the Author
---
Jessica Ellicott is the author of the Beryl & Edwina Mystery series, as well as the Change of Fortune mysteries under the name Jessica Estevao and the bestselling Sugar Grove Mysteries as Daphne du Maurier Award-winning author Jessie Crockett. A member of Wicked Authors, Sisters in Crime, and ITW, she lives in northern New England where she obsessively knits wool socks and enthusiastically speaks Portuguese with a shocking disregard for the rules of grammar. Please visit her online at JessicaEllicott.com.
Praise For…
---
Praise for Jessica Ellicott's Beryl and Edwina Mysteries
 
"With its strong sense of place and time in post-World War I England, this will be welcomed by fans of Frances Brody's Kate Shackleton mysteries." —Library Journal, STARRED REVIEW on Murder in an English Village
 
"A spectacular series launch." —Publishers Weekly, STARRED REVIEW on Murder in an English Village
 
"Firmly set in the post-WWI era, this historical cozy will appeal to those who enjoy Frances Brody's Kate Shackleton and Kerry Greenwood's Phryne Fisher series." —Booklist on Murder in an English Village
 
"Very much an English cozy mystery!" —Historical Novel Society on Murder in an English Village
 
"Ellicott's delightful third whodunit set in post-WWI England…Witty prose, distinctive characters, and an enchanting setting all make for a winner." —Publishers Weekly on Murder Cuts the Mustard
 
"Captivating…Ellicott smoothly injects such serious issues as the impact of WWI on its survivors and the restrictions of the English class system into a light whodunit." —Publishers Weekly on Murder Flies the Coop
"Edwina and Beryl are flawed but determined women whose quirks and differences make them sympathetic." —Historical Novel Society on Murder Flies the Coop
 
"[A] heaping helping of period English country charm." —Kirkus Reviews on Murder Cuts the Mustard
 
"This English cozy is perfect for fans of female detectives and mysteries set in quaint English villages." —Library Journal on Murder Comes to Call
 
"This is a treat for readers who enjoy following the adventures of disparate yet complementary sleuths." —Publishers Weekly on Murder Comes to Call
 
"In this clash between conscience and convention, hilarity wins." —Kirkus on Murder Comes to Call
 
"Lighthearted...The two women provide a welcome humorous touch as they guide us through their world." —New York Journal of Books on Murder Comes to Call
 
"Jessica Ellicott takes readers on a fantastic step back through time to a tumultuous post-WWI England where her strong, avant-garde sleuthers both entertain and inform the audience…The pair shines in Ellicott's series, which is also notable for its attention to period dialogue, dress, and mannerisms." —Mystery Scene Magazine on Murder Comes to Call
 
"Delightful...Ellicott does a good job conveying the fluidity of the British social order after WWI and how the paucity of men opened many opportunities for women. Downton Abbey lovers should be pleased." —Publishers Weekly on Murder in an English Glade
 
"Plenty of shenanigans before domestic tranquility is restored." —Kirkus on Murder in an English Glade
 
"This charming outing succeeds as pure escapism." —Publishers Weekly on Murder Through the English Post

"A finely calibrated puzzle sends the two sleuths on a mission that will delight the most discerning cozy aficionado." —Kirkus on Murder Through the English Post

"You'll love this delightful new series about two ladies of a certain age who refuse to let Society's expectations hold them back from bringing a killer to justice. The very British Edwina and the too American Beryl are a wonderfully mismatched pair who will keep you turning pages until they solve the crime." —Victoria Thompson, bestselling author of Murder in the Bowery
 
"Absolutely delightful. Readers will fall in love with this intrepid new pair of sleuths as they sniff out the secrets hiding just beneath the surface of even the most unassuming English village." —Anna Lee Huber, bestselling author of the Lady Darby Mysteries