Murder Wears a Hidden Face (A Gilded Age Mystery #8) (Hardcover)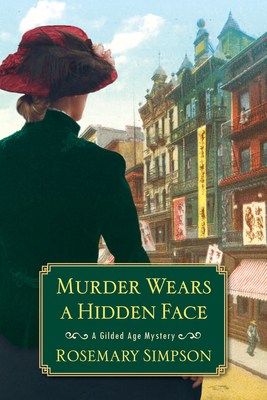 $27.00

NOT ON OUR SHELVES- available for order, usually ships in 1-5 days
Other Books in Series
This is book number 8 in the A Gilded Age Mystery series.
Description
---
A diplomat's murder draws heiress-turned-lawyer Prudence MacKenzie and former Pinkerton Geoffrey Hunter away from the opulent mansions of Gilded Age New York's high society and into the dark heart of Chinatown . . .

February 1891: New York's Metropolitan Museum of Art is hosting an exhibition of Chinese art objects, timed to coincide with the arrival of a new Chinese cultural attaché, Lord Peng. Prudence and Geoffrey are invited to attend the opening ceremonies. But among the throng of dignitaries making their way through the galleries is one decidedly unwelcome and unexpected visitor—an assassin who stabs the attaché to death, then flees through Central Park.

As witnesses, Prudence and Geoffrey quickly become immersed in the case and join former New York detective Warren Lowry in investigating the murder. But there are complications. The Peng family will no longer enjoy diplomatic standing and is threatened by deportation and possible disgrace or execution in their homeland. Desperate to remain in the West, they flee into the labyrinth of Chinatown, enlisting the protection of a long-lost uncle, now the leader of one of the city's most feared Tongs. But that alliance comes with a price; Peng's son must become his uncle's apprentice in crime, while his eldest daughter will be forced to marry a Tong leader she has never met.

With a killer still at large, bent on revenge for a long-ago injustice and determined to eliminate every member of the Peng family, Prudence and Geoffrey are plunged into the heart of a culture about which they know very little. Each foray into the narrow streets and alleyways of Chinatown could be their last.
About the Author
---
Rosemary Simpson is the author of the Gilded Age Mystery Series, as well as The Seven Hills of Paradise and Dreams and Shadows. She is a member of Sisters in Crime, International Thriller Writers, and the Historical Novel Society. Educated in France and the United States, she now lives near Tucson, Arizona and can be found online at RosemarySimpsonBooks.com.
Praise For…
---
Praise for Rosemary Simpson's Gilded Age Mysteries
 
"Incorporating characters ranging from Indigenous tribespeople to souvenir shills, Simpson brings Niagara and its contentious modernization to life. This one's for history buffs and fans of smart female sleuths." —Publishers Weekly on Death at the Falls

"A call for help on a matter of law turns into a treacherous case of investigative work in 1890 New York…Historical descriptions of Niagara Falls are a bigger treat." —Kirkus Reviews on Death at the Falls
 
"Fans of HBO's The Gilded Age will enjoy Rosemary Simpson's seventh Gilded Age mystery. It's a treat to see Prudence and Geoffrey exercise their investigative chops outside of New York City." —Criminal Element on Death at the Falls
 
"Simpson does a wonderful job evoking the world of Niagara Falls in the 1890s as the land is being developed both for tourism and for industries, while many in the community want to preserve its natural beauty.  This conflict between development and preservation is central to the action.  It is a time of major technological innovations such as the use of electricity, when people want to harness the power of the falls.  Highly recommended." —Historical Novel Society on Death at the Falls
 
"Cameo appearances by the real-life Nellie Bly and Jacob Riis enliven Simpson's intricate, well-researched narrative. Fans of Victoria Thompson and Alyssa Maxwell will be pleased." —Publishers Weekly on The Dead Cry Justice
 
"Simpson is such a gifted author…Readers will understand how Simpson brings to life the Gilded Age in New York City through detailed descriptions, real-life people such as Jay Gould, Jacob Riis, and Nellie Bly, and a riveting mystery." —Crimespree Magazine on The Dead Cry Justice
 
"One of many books featuring female sleuths, this one stands out. Simpson has clearly done copious research. Time and place are well-observed, the narrative is moving and immersive. Characters are true to type, diverse, and carry the racing narrative through to its conclusion. Nellie Bly, Jay Gould's philanthropic daughter Helen, and Jacob Riis make cameo appearances…A terrific read and noteworthy for its important historical content." —Historical Novels Review on The Dead Cry Justice
 
"The story will linger with readers long after they've finished the book. It's an excellent addition to the Gilded Age Mystery series." —Criminal Element on The Dead Cry Justice
 
"Simpson blends a briskly paced investigation with well-chosen Gilded Age details. Fans of Victoria Thompson and Alyssa Maxwell will be pleased." —Publishers Weekly on Death, Diamonds, and Deception
 
"Simpson takes her unconventional duo from the upper crust to the lowest dregs of New York society in the Gilded Age." —Kirkus Reviews on Death, Diamonds, and Deception
 
"Simpson conveys the atmosphere of 1880s New York extremely well, and takes the reader into the mansions of Fifth Avenue as well as the tenements where the poor and the members of the criminal underworld live.  Prudence and Geoffrey are wonderful characters, especially Prudence, who is an unconventional woman of her time." —Aunt Agatha's Bookstore on Death, Diamonds, and Deception
 
"In their search for the diamonds, Prudence and Geoffrey immerse themselves in the decadent world of the elite, and it is so well described that the reader feels as if they have entered this society as well...Recommended if you like mysteries, the history of the Gilded Age in New York, or historical novels with a touch of romance." —Historical Novels Review on Death, Diamonds, and Deception
 
"So descriptive it made readers feel that they were actually in the Gilded Age of New York. The street conditions, the social distinctions and interactions, the expectations of women, the parties, the carriages, and much more came alive with Simpson's writing style." —Crimespree Magazine on Death, Diamonds, and Deception
 
"Simpson doesn't shy away from the difficult choices people make in order to survive." —Criminal Element on Death, Diamonds, and Deception
 
"Simpson neatly exploits the gothic possibilities of her isolated setting and delivers a nuanced look at an America struggling to adjust to transformative change. This entry should win the series new fans." —Publishers Weekly on Death Brings a Shadow
 
"Packed with suspense, romance, voodoo, class and racial issues, and intimations of the war that didn't end at Appomattox." —Kirkus Reviews on Death Brings a Shadow
 
"Brimming with vivid prose and nail-biting menace, colorful characters and evocative dialogue, and a sense of place so real you can almost feel the mosquitoes on your neck. Death Brings a Shadow is a powerful antidote to fiction that overly romanticizes plantations and the Southern aristocracy for those of us interested in compelling mysteries built around stark, unvarnished truth." —Criminal Element on Death Brings a Shadow
 
"Simpson's depiction of the south after the Civil War is chilling, with lynchings, beatings, voodoo, and hidden secrets sprinkled throughout that keep us turning the pages." —New York Journal of Books on Death Brings a Shadow
 
"Gritty period details, including the involvement of famed tenement photographer Jacob Riis, draw this thriller closer to Caleb Carr's TheAlienist than to Anne Perry's Monk series, but fans of both will enjoy Simpson's unusual historical mystery." —Booklist on Let The Dead Keep Their Secrets
 
"Simpson further develops an admirable heroine who refuses to take refuge in the vapors but doesn't see that she's met a match in her partner—though neither does he." —Kirkus Reviews on Lies that Comfort and Betray
 
"Fans of Anne Perry will find Prudence a worthy American cousin to Charlotte Pitt." —Publishers Weekly on Lies that Comfort and Betray
 
"Naturally I always gravitate toward any book set in old New York, and this one exceeded expectations. It has everything one could expect from a historical mystery: set against the blizzard of '88, a smart heroine pits her wits against an evil stepmother out to destroy her." —Rhys Bowen, New York Times bestselling author of the Molly Murphy and Royal Spyness Mysteries on What the Dead Leave Behind
 
"Launching an atmospheric new series set in Gilded Age New York, Simpson incorporates historical events and figures to add verisimilitude to this tension-filled story. For mystery readers who appreciate period detail, including fans of Anne Perry's Thomas and Charlotte Pitt mysteries." —Library Journal, STARRED REVIEW for What the Dead Leave Behind
 
"Rosemary Simpson vividly recreates the world of nineteenth-century New York City in this exciting debut mystery. Every level of society intersects as we explore a world in which corruption touches both the highest and the lowest and nothing and no one is exactly what they seem." —Victoria Thompson, bestselling author of Murder in Morningside Heights on What the Dead Leave Behind
 
"This is a story to savor...Prudence is a stubborn, quick-witted American heroine who will remind readers of Tasha Alexander's Lady Emily Ashton and Deanna Raybourn's Lady Julia Grey." —Booklist on What the Dead Leave Behind
 
"Richly plotted...Simpson anchors an appealing detective duo in a colorful and well-researched depiction of period settings and personalities." —Publishers Weekly on What the Dead Leave Behind