One Cursed Rose (Paperback)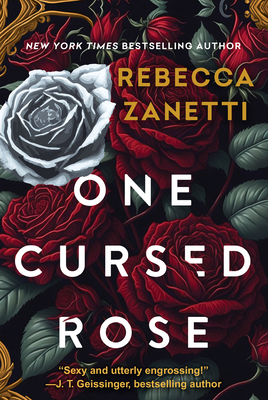 Description
---
For fans of Scarlett St Clair and Sarah J Maas, New York Times bestselling author Rebecca Zanetti explores the forbidden and the taboo in this modern twist on Beauty and the Beast – the first in a seductive new dark romance series set in a world where information is power, and those who control the flow of information live like gods…

My name is Alana Beaumont, and due to a recent tragedy, I'm the sole heir to Aquarius Social, a family business being systematically dismantled by an unseen enemy. My father's solution is to give me in marriage and create a coalition with a competing family, so I'm torn between my thirst for revenge and my duty. Now I just have a week to finish my hunt before the wedding.

There's nothing like an assassination attempt to cut short the best of plans—even worse is my unwanted rescue by Thorn Beathach, the Beast whose social media empire is driving Aquarius under. The richest, most ruthless of them all, he protects his realm with an iron rule: no one sees his face. When he shows himself to me, I know he'll never let me go.

Adam may think he can lock me in his castle forever, but I'm not the docile Beauty he expects. If the Beast wants to tie me up, I'm going to take pleasure from every minute of it . . .and we'll just see who ends up shackled.
About the Author
---
Rebecca Zanetti is the New York Times and USA Today bestselling author of over sixty romantic suspense, dark paranormal, and contemporary romances, many of which have also appeared on the Publishers Weekly, Amazon, Barnes and Noble, and Apple bestseller lists and sold millions of copies worldwide. She is a Daphne du Maurier Award-winner, a five-time Daphne du Maurier Award-finalist, a PRISM Award-winner, and a two-time PRISM Award-finalist. Nearly a dozen of her novels have been selected as Amazon Best Romances of the Month, including Lethal Lies, Mercury Striking and Fallen, which were also Amazon Best Books of the Year. Previously an an art curator, Senate aide, lawyer, college professor, and a hearing examiner, Rebecca has ridden in a locked Chevy trunk, asked the unfortunate delivery guy to release her from a set of handcuffs, and discovered the best silver mine shafts in which to bury a body – all in the name of research and only to culminate it all in stories about alpha males and the women who claim them. Please visit her online at RebeccaZanetti.com
Praise For…
---
Praise for Rebecca Zanetti:
 
"Zanetti is a master of romantic suspense, creating tightly plotted mysteries with delicious twists and turns…A strong start to a new series promises more mystery and romance for an up-and-coming FBI profiler." —Kirkus Reviews, STARRED REVIEW on You Can Run
 
"Zanetti launches a romantic suspense series with this pitch-perfect blend of slow-burn romance and adrenaline-fueled thrills…Both awkward Laurel and dogged Huck are refreshing departures from typical leads while still remaining fiercely independent and easy to root for. Their romance only bolsters the deliciously intricate mystery. Readers will delight in this smart take on classic trope." —Publishers Weekly, STARRED REVIEW on You Can Run
 
"Plot twists and red herrings abound in this fast-paced novel that will keep readers turning the pages." —Library Journal on You Can Run
 
"Be prepared to stay up all night…Rebecca Zanetti takes you on a thrill-ride, pitting characters you love against impossible odds." —Christine Feehan, New York Times bestselling author