Unraveled (Elemental Assassin #15) (Mass Market)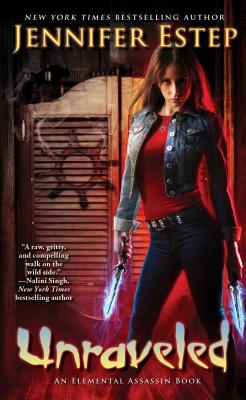 $9.99
Backordered or Out of Print
Other Books in Series
This is book number 15 in the Elemental Assassin series.
Description
---
Danger and new enemies await Gin Blanco, aka the Spider—the world of Ashland's most fearsome assassin—in Unraveled, Book 15 of the New York Times bestselling Elemental Assassin urban fantasy series that RT Book Reviews calls "unbeatable entertainment!"

What could go wrong when you're trying to unravel a decades-old conspiracy?

As the current queen of the Ashland underworld, you would think that I, Gin Blanco, would know all about some secret society controlling things from behind the scenes.

I might be the Spider, the city's most fearsome assassin, but all my Ice and Stone elemental magic hasn't done me a lick of good in learning more about "the Circle". Despite my continued investigations, the trail's gone as cold as the coming winter.

So when Finnegan Lane, my foster brother, gets word of a surprising inheritance, we figure why not skip town for someplace less dangerous for a few days? That place: Bullet Pointe, a fancy hotel resort complex plus Old West theme park that Finn now owns lock, stock, and barrel.

At first, all the struttin' cowboys and sassy saloon girls are just hokey fun. But add in some shady coincidences and Circle assassins lurking all around, and vacationing becomes wilder—and deadlier—than any of us expected.

Good thing this assassin brought plenty of knives to the gunfight …
About the Author
---
Jennifer Estep is a New York Times and USA Today bestselling author prowling the streets of her imagination in search of her next fantasy idea. Spider's Bite, Web of Lies, Venom, Tangled Threads, Spider's Revenge, By a Thread, Widow's Web, Deadly Sting, Heart of Venom, The Spider, Poison Promise, Black Widow, Spider's Trap, Bitter Bite, Unraveled, and Snared, along with the e-shorts Thread of Death, Parlor Tricks, Kiss of Venom, Unwanted, and Nice Guys Bite are the other works in her red-hot Elemental Assassin urban fantasy series. Jennifer is also the author of the Black Blade and Mythos Academy young adult urban fantasy series and the Bigtime paranormal romance series. For more on Jennifer and her books, visit her at JenniferEstep.com and @Jennifer_Estep.