Next Year, for Sure: A Novel (Paperback)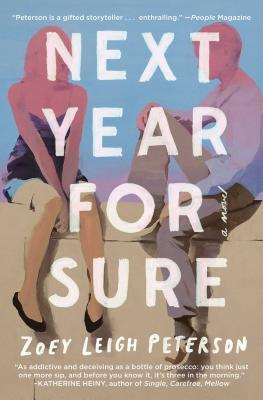 Description
---
In this debut novel, "a crisp, exciting exploration of love, friendship, and everything in between" (Kirkus Reviews), longtime romantic partners Kathryn and Chris experiment with an open relationship and reconsider everything they thought they knew about love.

After nine years together, Kathryn and Chris have the sort of relationship most would envy. They speak in the shorthand they have invented, complete one another's sentences, and help each other through every daily and existential dilemma. But, as content as they are together, an enduring loneliness continues to haunt the dark corners of their relationship. When Chris tells Kathryn about his feelings for Emily, a vivacious young woman he sees often at the laundromat, Kathryn encourages her boyfriend to pursue his attraction—certain that her bond with Chris is strong enough to weather a little side dalliance.

Next Year, For Sure tracks the tumultuous, revelatory, and often very funny year that follows. When Chris's romance with Emily evolves beyond what anyone anticipated, both Chris and Kathryn are invited into Emily's communal home, where Kathryn will discover new possibilities of her own. In the confusions, passions, and upheavals of their new lives, both Kathryn and Chris are forced to reconsider their past and what they thought they knew about love.

Creating an "enthralling" (People) portrait of a relationship from two perspectives, Zoey Leigh Paterson has written an empathic, beautiful, and tremendously honest novel about a great love pushed to the edge. "Oddly moving, often funny" (Library Journal), Next Year, For Sure shows us what lies at the mysterious heart of relationships, and what true openness and transformation require.
About the Author
---
Zoey Leigh Peterson was born in England, grew up all over the United States, and now lives in Canada. Her fiction has appeared in The Walrus, Grain, PRISM international, and has been anthologized in The Journey Prize Stories and Best Canadian Stories. She is the recipient of the Far Horizons Award for Short Fiction (The Malahat Review) and the Peter Hinchcliffe Fiction Award (The New Quarterly). Next Year, For Sure is her first novel.
Praise For…
---
"Psychologically perceptive . . . Peterson's commitment to exploring the idea of monogamy is refreshingly attuned to the shifting power dynamics between two—then three—players. A crisp, exciting exploration of love, friendship, and everything in between. Peterson's one to watch."

"One of those rare books that is so honest and alluring that while reading it I felt the giddy intoxication of finding a new best friend. In prose that seems simultaneously effortless and masterful, Zoey Leigh Peterson writes about the magical and ephemeral nature of love, the ebb and flow of relationships, the mysterious shifting of present into past. This book is smart and fresh and full of surprises, with characters who are so richly drawn, so complex and funny and achingly vulnerable that knowing them left me with a sense of being better known. Upon finishing, I want to read every single thing Zoey Leigh Peterson has ever written and ever will write, books and stories, birthday cards and grocery lists. This novel dazzled me."
— Aryn Kyle, bestselling author of The God of Animals

"Zoey Leigh Peterson pulls off a difficult balancing act, creating deeply nuanced characters while sacrificing nothing for forward movement. Her bright, clear prose is as addictive and deceiving as a bottle of prosecco: you think one more sip, just one more sip--and before you know it, it's three in the morning."
— Katherine Heiny, author of Single, Carefree, Mellow

"What's most impressive is that debut novelist Peterson has written a book that concretely explores the beginnings of an open relationship, its joys and pitfalls, and pulls it off in this easy-to-read and sympathetic character study."

"Peterson is a gifted storyteller... enthralling."

"Oddly moving, often funny... Fans of Lena Dunham and Noah Baumbach movies may especially enjoy."

"Reductively describing Zoey Leigh Peterson's stylish debut novel as 'about open relationships' pretty much misses the point. The novel does provoke, though, in the best ways... Peterson's a marvel."

"A couple dabbles in nonmonogamy in this superhot story."

"A lively yet sensitive novel that examines both the possibilities and struggles inherent to loving beyond typical constraints...exactly what great and relevant literature should do... It's all too easy to fall in love with these characters as they messily fall in love with each other."