Dating You / Hating You (Paperback)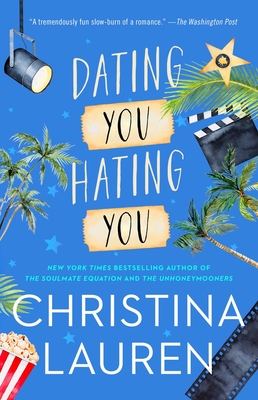 Description
---
Everyone knows that all's fair in love and war. But these two will learn that sabotage is a dish best served naked.

A sexy, compulsively readable romantic comedy that dives headlong into the thrill and doubt of modern love, Dating You/Hating You by New York Times bestselling author Christina Lauren is the story of what two high-powered agents will—and won't—do to get everything they ever wanted.

Despite the odds against them from an embarrassing meet-awkward at a mutual friend's Halloween party, Carter and Evie immediately hit it off. Even the realization that they're both high-powered agents at competing firms in Hollywood isn't enough to squash the fire.

But when their two agencies merge—causing the pair to vie for the same position—all bets are off. What could have been a beautiful, blossoming romance turns into an all-out war of sabotage. Carter and Evie are both thirtysomething professionals—so why can't they act like it?

Can Carter stop trying to please everyone and see how their mutual boss is really playing the game? Can Evie put aside her competitive nature long enough to figure out what she really wants in life? Can their actor clients just be something close to human? Whether these two Hollywood love/hatebirds get the storybook Hollywood ending, or just a dramedy of epic proportions, you get to enjoy Christina Lauren's heartfelt, hilarious story of romance in the modern world.
Praise For…
---
"Truly a romance for the twenty-first century. [Dating You / Hating You is] a smart, sexy romance for readers who thrive on girl power."

"Christina Lauren hilariously depicts modern dating."

"Christina Lauren is back in top form in this light, funny and unflinchingly honest stand-alone novel about growing up, standing up and falling in love."

"Lauren channels the elements of beloved romantic comedies... the dual perspectives of Evie and Carter will have readers ripping through the book to find out if these two can work things out."

"Christina Lauren is my go-to author when I'm looking for sexy and sweet."

"Funny, feminist, and a great example of a modern romance... Evie is amazing and will go down in history as one of the best heroines I've read."

"Smart, sexy and feminist, Dating You / Hating You will delight contemporary romance fans."

"A sexy, sweet treasure of a story. I loved every word."

"Lauren's snappy dialogue, amusing banter, and dual first-person perspectives (with alternating chapters told from London's and Luke's points of view) keep the emotions high, close, and intense. A hyper-sexy sophisticated romance that perfectly captures the hunger, thrill, and doubt of young, modern love."

"Hot . . . if you like your hook-ups early and plentiful..."

"[The] Wild Seasons series is equal parts hot, funny, and romantic.... In our eyes, Christina Lauren can do no wrong."

"Lauren's standalone brims with authentic characters and a captivating plot."