Operational Updates
Dear Ripped Bodice Community,
We want to make sure we are keeping you updated on how we are handling this crisis. It's been a very challenging time but we are hanging in there.
The shop remains closed to all customers with no events on the calendar.
-Online orders
We are still accepting online orders and have adopted a process to best comply with the evolving guidelines from California and LA County Departments of Health.
This means that Leah is processing all incoming orders and our staff has been instructed to stay at home. Because this is now a one-woman operation, shipping may be slower than normal. We love and appreciate your support in this incredibly difficult time, so we ask that you bear with us as we continue to fill orders. Given the state of the world and The Post Office, we are strongly recommending that you use USPS flat rate shipping at this time to ensure the quickest and most accurate delivery.
-Care packages
We are now accepting new orders for care packages. However, because we are down to a shipping staff of one, we will be accepting orders in batches so as not to overwhelm Leah. Head to this link to enter your email address, and we'll send you the order link once it's your turn.
Questions about orders (or anything) can be directed to hello@therippedbodicela.com
Finally, now is a great time to think about becoming a Patron of the store.
http://patreon.com/TheRippedBodice
There is already a ton of cool content you can check out on our page. Including 12 original short stories from some amazing romance authors. Vlogs and other fun stuff. We know this is not an option for everyone and that's totally okay and understandable. But if you're looking for a way to help, this is a great option.

We hope you are all doing okay and making it through one day at a time.
xoxo, Bea & Leah and Fitz
What Happened (Hardcover)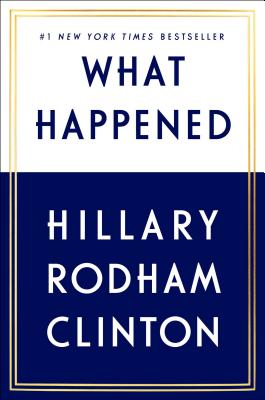 Description
---
A TIME BEST BOOK OF THE YEAR AND NEW YORK TIMES NOTABLE BOOK

"In the past, for reasons I try to explain, I've often felt I had to be careful in public, like I was up on a wire without a net. Now I'm letting my guard down." —Hillary Rodham Clinton, from the introduction of What Happened

For the first time, Hillary Rodham Clinton reveals what she was thinking and feeling during one of the most controversial and unpredictable presidential elections in history. Now free from the constraints of running, Hillary takes you inside the intense personal experience of becoming the first woman nominated for president by a major party in an election marked by rage, sexism, exhilarating highs and infuriating lows, stranger-than-fiction twists, Russian interference, and an opponent who broke all the rules. This is her most personal memoir yet.

In these pages, she describes what it was like to run against Donald Trump, the mistakes she made, how she has coped with a shocking and devastating loss, and how she found the strength to pick herself back up afterward. With humor and candor, she tells readers what it took to get back on her feet—the rituals, relationships, and reading that got her through, and what the experience has taught her about life. She speaks about the challenges of being a strong woman in the public eye, the criticism over her voice, age, and appearance, and the double standard confronting women in politics.

She lays out how the 2016 election was marked by an unprecedented assault on our democracy by a foreign adversary. By analyzing the evidence and connecting the dots, Hillary shows just how dangerous the forces are that shaped the outcome, and why Americans need to understand them to protect our values and our democracy in the future.

The election of 2016 was unprecedented and historic. What Happened is the story of that campaign and its aftermath—both a deeply intimate account and a cautionary tale for the nation.
About the Author
---
Hillary Rodham Clinton is the first woman in US history to become the presidential nominee of a major political party. She served as the 67th Secretary of State after nearly four decades in public service advocating on behalf of children and families as an attorney, First Lady, and US Senator. She is a wife, mother, and grandmother.
Praise For…
---
"What Happened is not one book, but many. It is a candid and blackly funny account of her mood in the direct aftermath of losing to Donald J. Trump. It is a post-mortem, in which she is both coroner and corpse. It is a feminist manifesto. It is a score-settling jubilee…. It is worth reading."
—The New York Times

"What Happened is a raw and bracing book, a guide to our political arena."
—The Washington Post

"The writing in What Happened is engaging — Clinton is charming and even funny at times, without trying to paint herself in too flattering of a light…. Ultimately, the book might be a historical artifact most of all — the chronicling of what, exactly, it was like to run for president as the first woman major-party candidate (and, yes, a Clinton as well). Plenty may disagree with Clinton's opinions on what went wrong for her, but her story will still be an important part of that history when America looks back on the melee that was the 2016 election."
—NPR

"An engaging, beautifully synthesized page-turner."
—Slate

"Here is Clinton at her most emotionally raw.... While What Happened records the perspective of a pioneer who beat an unprecedented path that stopped just shy of the White House, it also covers territory that many women will recognize.... She demonstrates that she can mine her situation for humor."
—People

"What Happened is not a standard work of this genre. It's interesting; it's worth reading; and it sets out questions that the press, in particular, has not done enough to face."
—The Atlantic

"Engaging... witty, and useful."
—The New York Review of Books

"A disturbing autopsy on the state of America today. What Happened is an urgent plea directed not only to those concerned about America's capacity to survive, but also to all who are anxious about protecting America's international contributions to human health."
—The Lancet

"This is an important book, and anyone who's worried by what happened last November 8 should pick it up."
—Entertainment Weekly

"Contains... insights into Ms. Clinton's personality, character, and values, and the challenges confronting women in politics."
—Pittsburgh Post-Gazette

"The most useful way to read What Happened is as one last instance of Clinton doing what she calls her civic duty."
—Los Angeles Times
Coverage from NPR