Dancing on the Head of a Pin (Remy Chandler #2) (MP3 CD)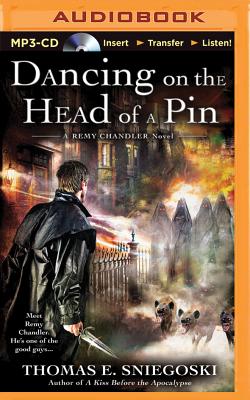 $9.99
Backordered or Out of Print
Other Books in Series
This is book number 2 in the Remy Chandler series.
Description
---
Once he was known as the Angel Remiel, but generations ago Boston PI Remy Chandler chose to renounce heaven and live on earth, where he found a secure place among us ordinary humans....
But now, having lost the love of his life, Remy finds himself turning more and more away from his human friends and his everyday existence. He's begun to seek out dangerous jobs--those that involve the supernatural, those that bring him into contact with his past.
Like his latest case: the theft of a cache of ancient weaponry stolen from a collector who deals in antiquities of a dark and dubious nature. The weapons, Remy knows, were forged aeons ago and imbued with unimaginable power. If they fall into the wrong hands, they could be used to destroy not only Heaven but also Earth.
And to prevent that, Remy Chandler must decide whether he is willing to lose the last of his own humanity....