Political Fallout: Nuclear Weapons Testing and the Making of a Global Environmental Crisis (Paperback)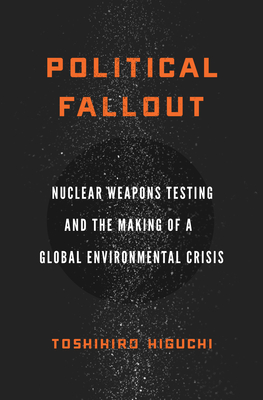 $30.00
Backordered or Out of Print
Description
---
Political Fallout is the story of one of the first human-driven, truly global environmental crises--radioactive fallout from nuclear weapons testing during the Cold War--and the international response. Beginning in 1945, the United States, Britain, and the Soviet Union detonated hundreds of nuclear weapons in the atmosphere, scattering a massive amount of radioactivity across the globe. The scale of contamination was so vast, and radioactive decay so slow, that the cumulative effect on humans and the environment is still difficult to fully comprehend.
The international debate over nuclear fallout turned global radioactive contamination into an environmental issue, eventually leading the nuclear superpowers to sign the landmark Partial Test Ban Treaty (PTBT) in 1963. Bringing together environmental history and Cold War history, Toshihiro Higuchi argues that the PTBT, originally proposed as an arms control measure, transformed into a dual-purpose initiative to check the nuclear arms race and radioactive pollution simultaneously. Higuchi draws on sources in English, Russian, and Japanese, considering both the epistemic differences that emerged in different scientific communities in the 1950s and the way that public consciousness around the risks of radioactive fallout influenced policy in turn. Political Fallout addresses the implications of science and policymaking in the Anthropocene--an era in which humans are confronting environmental changes of their own making.
About the Author
---
Toshihiro Higuchi is Assistant Professor of History at Georgetown University.