A Dictionary of Quotes from the Saints (Hardcover)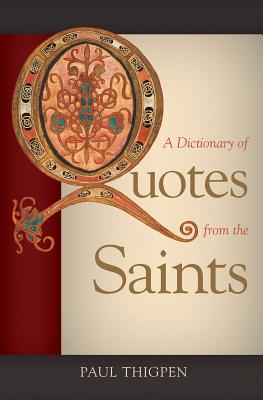 $27.95
Backordered or Out of Print
Description
---
Overflowing with priceless spiritual insights, this rich collection presents key quotes from the saints on topics that are fundamental to Christian faith and experience. Profound and challenging, whimsical and inspiring, these readings will open your eyes, expand your horizons, and challenge your thinking.

What did the great heroes of the Catholic faith have to teach us about God? Christ? The Church? The sacraments? Prayer? Temptation? Virtues and vices?

What do they have to say about the family? Friendship? Politics? Aging? The death of a loved one? Gossip? Laughter? Play?

Discover the striking parallels and solid agreement in the teachings of saints who lived in many different ages, places, and cultures, yet drew from the same well of ancient Christian wisdom.

Explore an array of the best of the saints' insights, organized in a brief, logical, and easy-to-use format.

Includes quotes from hundreds of saints, both those who are best known and those who should be better known as inspiring models of Christian faith and life.

Provides an especially useful resource for priests, deacons, and other teachers of the Faith.
About the Author
---
Paul Thigpen, Ph.D., is an award-winning journalist and the bestselling author of more than forty-five books, including A Year With the Saints (Saint Benedict Press, 2013), Saints Who Battled Satan (TAN Books, 2015) and Manual for Spiritual Warfare (TAN Books, 2014). His work has been circulated worldwide and translated into thirteen languages.