Brick Shakespeare: Four Tragedies & Four Comedies (Hardcover)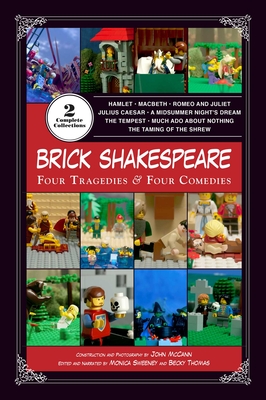 $35.00
Backordered or Out of Print
Description
---
Never before have Shakespeare's plays been depicted in LEGO bricks, and now Brick Shakespeare: The Tragedies—Hamlet, Macbeth, Romeo and Juliet, and Julius Caesar and Brick Shakespeare: The Comedies—A Midsummer Night's Dream, The Tempest, Much Ado About Nothing, and The Taming of the Shrew are available in one extraordinary hardcover.

With over two thousand color photographs depicting the most well-known scenes in some of Shakespeare's most well-known plays, this bind-up is the perfect gift for your LEGO- and Shakespeare-loving friends and family!

Fall in love with LEGO Juliet on her balcony as Romeo proclaims his love. See the full effect of Lady Macbeth's manic "Out, out, damn spot!" in a whole new way. Laugh along with LEGO Puck as he mischievously hassles the lovers in the woods. Cast a storm with brick Prospero as he strands his usurping brother on his deserted island.

With this beautiful, two-book collector's set, you can continue to be amazed by Shakespeare as illustrated by your favorite toy.
About the Author
---
John McCann, a New England native, has over two decades of experience playing with LEGO bricks. He enjoys relaxing lakeside and can solve a Rubik's Cube in three days flat. John has a BS in biomedical engineering from the University of Hartford and is currently pursuing his master's degree. He resides in Torrington, Connecticut.

Monica Sweeney works in the publishing industry, and she is the author of several adult and children's books. She lives in Boston.

Becky Thomas enjoys breaking the bindings of all books Jane Austen, playing video games, and trying out new recipes. She graduated with honors in English from the University of Massachusetts–Amherst, and she lives with her husband, Patrick, and her cat, Leo, in Burlington, Massachusetts.