Operational Updates
Click HERE for the most updated hours, customer guidelines and updates to store policy.
Beneath the Keep: A Novel of the Tearling (Hardcover)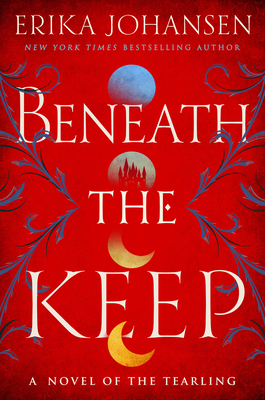 $27.00
NOT ON OUR SHELVES- available for order, usually ships in 1-5 days
February 2021 Indie Next List
---
"Centuries after the Crossing, the Tearling has fallen far from William Tear's dream of utopia. The gap between classes is wide and citizens at the bottom lead dark, brutal lives. A rebel uprising brings hope for change along with a prophecy about the coming of a True Queen. Readers just discovering the Tearling will be intrigued by the complex world-building. Those familiar with the original trilogy will delight in reading beloved characters' backstories in this ambitious prequel."
— Tarah Jennings, Mitzi's Books, Rapid City, SD
Description
---
"A suspenseful, multi-layered tale of how the sparks of revolution are kindled, and of those who strive to ignite them."
—Cassandra Clare, #1 New York Times bestselling author

As a kingdom descends into darkness and new alliances are forged under fire, a battle begins over a prophecy that will change the course of history in this much-anticipated stand-alone prequel to the bestselling Queen of the Tearling trilogy. 

The Tearling, founded as a utopia, has collapsed and reverted to feudalism. As the gap between rich and poor widens and famine threatens the land, rumors of a prophecy begin to spread: a great hope, a True Queen who will ascend and save the kingdom.

But rumors will not help Lazarus, a boy on the verge of manhood, trapped in the clandestine underworld known as the Creche. Enlisted from his earliest days to kill without mercy, he has never seen sun or sky, not until a quest for vengeance propels him aboveground. There he finds a calling amid a royal court rife with intrigue and danger, where he meets Niya, Princess Elyssa's handmaid, who is not what she appears to be and whose true identity will spell death if revealed.
 
With a righteous rebellion gathering inside her kingdom, Princess Elyssa finds herself torn between duty to the throne and her growing loyalty to the Blue Horizon, a group of fierce idealists who promise radical change. Elyssa must choose quickly, for threats beset her on all sides, and the powers wielded by an uncanny seer and her shadowy master are preparing to decide the Princess's fate for her. It is only a matter of time before Lazarus, Niya, and Elyssa will be called into the service of something greater than they have ever imagined: the fight for a better world.
About the Author
---
Erika Johansen grew up in the San Francisco Bay Area. She went to Swarthmore College in Pennsylvania, attended the Iowa Writers' Workshop, and eventually became an attorney, but she never stopped writing. She lives in England.
Praise For…
---
"A many-layered tale of intrigue and revolution, Beneath the Keep adds new depth — and not a few surprises — to Erika Johansen's acclaimed Tearling trilogy. The prequel deftly sets the stage for Queen Kelsea's reign, as factions jockey for power over the throne and an uprising gathers in the shadows. A must-read for fans of the Tearling!"
—Helene Wecker, New York Times bestselling author of The Golem and the Jinni

"A suspenseful, multi-layered tale of how the sparks of revolution are kindled, and of those who strive to ignite them."
—Cassandra Clare, #1 New York Times bestselling author

"The Queen of the Tearling is a marvelous adventure about a woman growing unapologetically into her own power, and the sacrifice that comes with responsibility. I loved it."
—Katherine Arden, New York Times bestselling author of the Winternight trilogy

"A page-turning prequel that fans of the Queen of the Tearling series are sure to love. With clout-heavy women both good and bad, it tells the story of a powerful family that began in glory but has long since soured until it now survives by subjugating the very people it professed to protect. Only the True Queen can restore equality, but not until Elyssa's mother relinquishes her grip on the throne. . . . Dark and timely, Beneath the Keep is a study in delicious contrasts with political intrigue set against gritty survival, of excess born in bone-chilling deprivation, of high values falling to shocking, base desires. And, of course, magic struggling to rise over cruel, brute force."
—Kim Harrison, author of The Hollows series

"The story considers the nature of forgiveness, the use and abuse of power, and the morality of right and wrong as characters develop in unexpected ways. The dramatic climax will have readers questioning who the real hero is at the end of this compelling tale of epic fantasy. Series fans will be intrigued to discover the background details of individuals who are pivotal to events in the trilogy, and those new to the series will want to find out what comes next."
—Booklist, starred review

"Johansen delves into the forces that tore the kingdom of Tearling apart in this captivating prequel to her Queen of the Tearling series… Johansen pulls off an impressive feat in crafting a spellbinding prequel that works just as well as a standalone… the steadily building tension carries the story forward. New and old fans alike are sure to be taken in."
 —Publishers Weekly

"Beneath the Keep continues this immersive fantasy that I fell in love with and this book both serves to expand the world, and gives readers some insight into the events that lead to the main series… the further you delve into the story, the more you find yourself hooked on the storylines of these characters and what the future may hold for the Tearling… The worldbuilding along with the way that Erika has set the tone for the story, makes this such an atmospheric piece of work. It created this emotional connection between the place and characters, and by the end, I definitely felt like I had been on my own journey." 
—The Nerd Daily

"Beneath the Keep is a story that can stand on its own; you don't need to have read any of Johansen's other novels to fully enjoy this twisty tale of statecraft and rebellion, prophecy, and growth… That this book exists is a gift to fans of Johansen's work, and if there's any justice, it'll bring new fans to the original trilogy in the wake of its publication…  Sacrifice, betrayal, and shocking twists abound, all the way up to an ending that's somehow both grim and hopeful at the same time. Reader, I adored it…  A must-read for those who liked the original series, and a strong recommendation for anyone who likes well-written fantasy."
—The Culturess

"I devoured this book over a weekend, despite having never read the others."
—Angela Lashbrook on Medium.com