The Two-Faced Queen (The Legacy of the Mercenary King #2) (Paperback)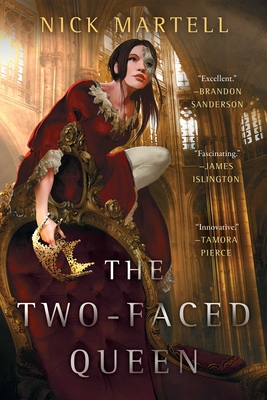 $18.99

NOT ON OUR SHELVES- available for order, usually ships in 1-5 days
Description
---
The Hollows is on the brink of civil war as brother and sister vie for the throne in the second novel of the trilogy which Brandon Sanderson called "excellent."

"Simply put, this series is a master class in grand-scale storytelling. The future of epic fantasy is here—and this saga is it." —Kirkus Review (starred review)

Michael Kingman thought he was going to die by the executioner's axe, forever labeled as a traitor. Still alive, and under the protection of the Orbis Mercenary company, Michael and his family and friends are deeply involved in the seemingly rival conspiracies that are tearing The Hollows apart. With the death of the King, both the Corrupt Prince and his sister Serena are vying for the throne, while the Rebel Emperor is spreading lies amongst the people, and all of them want Michael dead. This is a story of betrayal, murder, and rebellion, and in this direct sequel to the debut novel The Kingdom of Liars, also some hope for justice.

For readers who love the intrigue and widening scope of epic fantasy like Brandon Sanderson's Mistborn and Brent Weeks's The Black Prism, you will find your next must-read fantasy series in The Legacy of the Mercenary King.
About the Author
---
Nick Martell was born in Ontario, Canada, before moving to the United States at age seven. He started writing novels regularly in fifth grade, and his debut novel, The Kingdom of Liars, sold when he was twenty-three years old. Find Nick on Twitter, @MacMartell or at NickMartell.com.
Praise For…
---
"A symphony of loyalty, greed, family, and betrayal set in an innovative culture!"

—Tamora Pierce, #1 New York Times bestselling author of Tempests and Slaughter

"With a smartly plotted story, great world-building, flawed but fascinating characters and plenty of mystery, The Kingdom of Liars is a terrific debut."

—James Islington, author of The Shadow of What Was Lost

"A richly rewarding fantasy that seethes with mysteries, fuzed with a mindscrew of a magic system. This, dear readers, is the good stuff."

—Jeremy Szal, author of Stormblood

"Nick Martell's debut The Kingdom of Liars lives up to its name, with so many truths and lies interwoven that nothing is as it seems and surprises lurk across every turn of the page. Michael's tale is nothing, if not thrilling."

—Ryan Van Loan, author of The Sin in the Steel

"An impressive fantasy debut that creates a solid foundation for (hopefully) a much larger narrative to come…"
— Kirkus Reviews

"This smart, briskly told high fantasy entertains all the way until the unexpected end."
— Publishers Weekly

"A symphony of loyalty, greed, family, and betrayal set in an innovative culture!"

—Tamora Pierce, #1 New York Times bestselling author of Tempests and Slaughter

"With a smartly plotted story, great world-building, flawed but fascinating characters and plenty of mystery, The Kingdom of Liars is a terrific debut."

—James Islington, author of The Shadow of What Was Lost

"A richly rewarding fantasy that seethes with mysteries, fuzed with a mindscrew of a magic system. This, dear readers, is the good stuff."

—Jeremy Szal, author of Stormblood

"Nick Martell's debut The Kingdom of Liars lives up to its name, with so many truths and lies interwoven that nothing is as it seems and surprises lurk across every turn of the page. Michael's tale is nothing, if not thrilling."

—Ryan Van Loan, author of The Sin in the Steel

"An impressive fantasy debut that creates a solid foundation for (hopefully) a much larger narrative to come…"
— Kirkus Reviews

"This smart, briskly told high fantasy entertains all the way until the unexpected end."
— Publishers Weekly

"A symphony of loyalty, greed, family, and betrayal set in an innovative culture!"

—Tamora Pierce, #1 New York Times bestselling author of Tempests and Slaughter

"With a smartly plotted story, great world-building, flawed but fascinating characters and plenty of mystery, The Kingdom of Liars is a terrific debut."

—James Islington, author of The Shadow of What Was Lost

"A richly rewarding fantasy that seethes with mysteries, fuzed with a mindscrew of a magic system. This, dear readers, is the good stuff."

—Jeremy Szal, author of Stormblood

"Nick Martell's debut The Kingdom of Liars lives up to its name, with so many truths and lies interwoven that nothing is as it seems and surprises lurk across every turn of the page. Michael's tale is nothing, if not thrilling."

—Ryan Van Loan, author of The Sin in the Steel

"An impressive fantasy debut that creates a solid foundation for (hopefully) a much larger narrative to come…"
— Kirkus Reviews

"This smart, briskly told high fantasy entertains all the way until the unexpected end."
— Publishers Weekly