The Store (Paperback)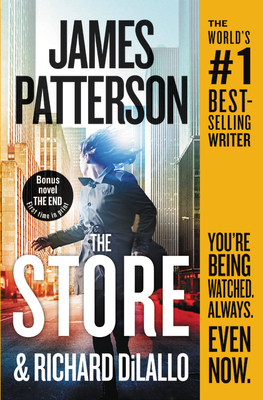 $15.99
Backordered or Out of Print
Description
---
When Jacob and Megan Brandeis plan to expose a secretive and evil corporation, the fallout threatens to destroy them.
Jacob and Megan Brandeis have gotten jobs with the mega-successful, ultra-secretive Store. Seems perfect. Seems safe. But their lives are about to become anything but perfect, anything but safe. Especially since Jacob and Megan have a dark secret of their own. They're writing a book that will expose the Store-a forbidden book, a dangerous book.
And if the Store finds out, there's only one thing Jacob, Megan and their kids can do: run for their bloody lives. Which is probably impossible, because the Store is always watching . . .

About the Author
---
James Patterson holds the Guinness World Record for the most # 1 New York Times bestsellers. His books have sold more than 350 million copies worldwide. He has donated more than one million books to students and soldiers and has over four hundred Teacher Education Scholarships at twenty-four colleges and universities. He has also donated millions to independent bookstores and school libraries.

Praise For…
---
"Behind all the noise and the numbers, we shouldn't forget that no one gets this big without amazing natural storytelling talent--which is what James Patterson has, in spades."
—Lee Child

"It's no mystery why James Patterson is the world's most popular thriller writer: his uncanny skill in creating living, breathing characters we truly feel for and seamless, lightning-fast plots. I do this for a living, and he still manages to keep me guessing from the first to last page. Simply put: Nobody does it better."
—Jeffery Deaver

"James Patterson is The Boss. End of."—Ian Rankin

"Patterson has mastered the art of writing page-turning bestsellers."
—Chicago Sun-Times

"Patterson's books might as well come with movie tickets as a bonus feature."
—New York Times