Operational Updates
Reopening for in-person browsing: JUNE 6
store hours: 12pm to 6pm everyday
We are still accepting online orders, as well as care package orders at this link.
New Customer Guidelines:
No Mask, No Entry. If you don't have a mask, knock on the door and a staff member will bring you one that you can keep.
Browse with intention. Don't touch every book in the store if you don't have to.
In order to ensure touchless checkout, we are not accepting cash at this time.
Only 7 customers are allowed in the store at one time.
No pets at this time.
Children need to be vigorously supervised; they cannot leave your side while you are browsing.
All seating areas are closed.
Our tea service is currently suspended, but you can still buy the tea leaves to make at home.
Graveyard Shift (MP3 CD)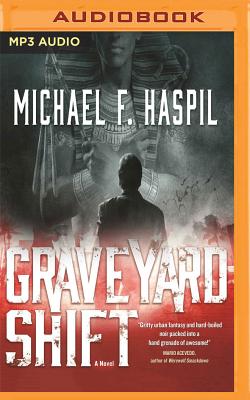 Description
---
Police procedurals go supernatural in this gritty urban fantasy debut by Michael F. Haspil in Graveyard Shift.
Alex Menkaure, former pharaoh and mummy, and his vampire partner, Marcus, born in ancient Rome, are vice cops in a special Miami police unit. They fight to keep the streets safe from criminal vampires, shape-shifters, bootleg blood dealers, and anti-vampire vigilantes.
When poisoned artificial blood drives vampires to murder, the city threatens to tear itself apart. Only an unlikely alliance with former opponents can give Alex and Marcus a fighting chance against an ancient vampire conspiracy.
If they succeed, they'll be pariahs, hunted by everyone. If they fail, the result will be a race war bloodier than any the world has ever seen.