War Stars: The Superweapon and the American Imagination (Paperback)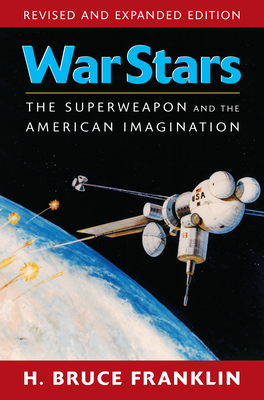 $30.95
Backordered or Out of Print
Description
---
In this new and expanded edition of an already classic work, H. Bruce Franklin brings the epic story of the superweapon and the American imagination into the ominous twenty-first century, demonstrating its continuing importance both to comprehending our current predicament and to finding ways to escape from it.

Sweeping through two centuries of American culture and military history, Franklin traces the evolution of superweapons from Robert Fulton's eighteenth-century submarine through the strategic bomber, atomic bomb, and Star Wars to a twenty-first century dominated by "weapons of mass destruction," real and imagined. Interweaving culture, science, technology, and history, he shows how and why the American pursuit of the ultimate defensive weapon—guaranteed to end all war and bring universal triumph to American ideals—has led our nation and the world into an epoch of terror and endless war.
About the Author
---
H. Bruce Franklin is John Cotton Dana Professor of English and American Studies at Rutgers University. He is author of numerous books, including Vietnam and Other American Fantasies (University of Massachusetts Press, 2001.
Praise For…
---
"A searing and penetrating history of the American obsession with finding a technology that will end wars forever—and our conviction that, unlike other nations, we can be trusted not to misuse weapons of mass annihilation. Its analysis of American fiction and films provides a new dimension to the subject."—Carl Sagan

"War Stars, a penetrating and often disturbing study of why we create superweapons in the pursuit of 'security and peace,' places our culture on the analyst's couch."—New York Times

"In War Stars, H. Bruce Franklin writes American history from a new angle. It astonished me—but it was totally convincing throughout."—Isaac Asimov

"In this carefully researched and revealing inquiry into American cultural history, Bruce Franklin brings to light themes of great significance. One is the fear that we are about to be destroyed, and at the last minute are saved, miraculously, by a superweapon or superhero. More ominously, in his words, 'the American imperial eagle' commonly turns out to be 'a bird that habitually views its own behavior as "defense" against its prey.' Unless this pathology is understood and overcome, it will continue to cause great harm, which we will not escape."—Noam Chomsky

"War Stars is so crammed with fascinating facts and ideas that it should interest people of all political persuasions. It should be required reading."—Bulletin of Atomic Scientists

"A marvelous study that weaves together some of the most important developments in US military history, a survey of popular literature, and an overview of American culture. . . . The story of America's conversion to belief in the efficacy of air power . . . is told better here than anywhere else. No source provides so profound a historical perspective."—Choice

"War Stars is a solid work, exploring the cultural history of the search for security by emphasizing 'peace through strength.' It is an important study, worthy of anyone's consideration."—Quest