Operational Updates
Click HERE for the most updated hours, customer guidelines and updates to store policy.
Ultimate Guide to Kink: BDSM, Role Play and the Erotic Edge (Paperback)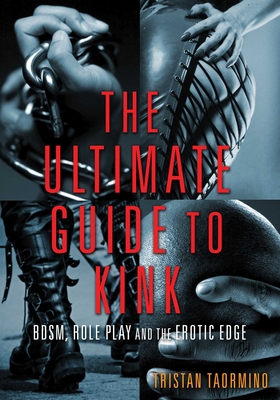 $28.95
NOT ON OUR SHELVES- available for order, usually ships in 1-5 days
Description
---
The Ultimate Guide to Kink is the first major guide to BDSM in a generation--a bold and sexy collection of essays that run the gamut from expert how-to tutorials to provocative essays that delve into complex questions about desire, power, and pleasure. The book brings together diverse voices from the kink community in an unprecedented way: each chapter is written by a different sexuality/BDSM educator. Divided into two sections, the first section features thorough, thoughtful pieces--on everything from flogging to bondage--packed with techniques and beautifully illustrated with original images from artist Katie Diamond. The second section is dedicated to role-playing fantasies and personal manifestos. From age play to masochism, these chapters cover some of the edgiest, most taboo and controversial elements of kink in depth. The Ultimate Guide to Kink features the expertise of renowned educators writing passionately on their favorite subjects, including Patrick Califia, Midori, Laura Antoniou, Barbara Carrellas, Lee Harrington, Jack Rinella, Lolita Wolf, Madison Young, Hardy Haberman, Felice Shays, Ignacio Rivera, Sarah Sloane, Mollena Williams, FifthAngel, and Edge. It will educate, inspire, and challenge both newcomers to the world of kink and experienced BDSM players.
About the Author
---
Tristan Taormino is an American feminist author, columnist, sex educator, activist, editor, speaker, radio host, and pornographic film director.
Praise For…
---
"Whatever youre into, whatever you try, the authors want you to do it right, consensually, and safely."
A Roll in the Hay

"I can't recommend this enough."
Krissy Novacaine

"It's essential reading. Each chapter focuses on a different kink, and each is written by a different expert in that field. It is an excellent tome for introducing someone to kink and for deepening your own interests (if by chance you are into that kind of thing). Contributors include Patrick Califia, Midori, Laura Antoniou, Barbara Carrellas, Lee Harrington, Jack Rinella, Lolita Wolf, Madison Young, Hardy Haberman, Felice Shays, Ignacio Rivera, Sarah Sloane, Mollena Williams, Fifth Angel, and Edge, writing about spanking, bondage, fisting, rough sex, domination, submission, masochism, sadism, tantra, and role play, among others. This is a rock star sex educator lineup which includes just about everything you'd need to know to pique your interest, juice up your Fetlife profile, and get yourself out into the world of leather, BDSM, and kink. It's not a substitute for hands-on learning, classes for which are abundant in most major cities, but it will get you started and deepen your understanding of any of these topicsbe they brand new to you or something you'd like to deepen. Tristan Taormino, as usual, gathered the definitive words on the most common kink skills and philosophies, and this book is essential reading for kinky and queer sexual adventures."
Lambda Literary Summer 2012 Cliterotica Review

"It will educate, inspire, and challenge both newcomers to the world of kink and experienced BDSM players."
Erotica Readers and Writers Association

"Enter The Ultimate Guide to Kink. This opens that door for people to embark on that journey of knowledge and understanding, through unique and honest insight from people really in the know. I actually think thats one of the books greatest appeals; rather than this just being a general guide describing various forms and subtypes of kink, it really takes you into the world of each topic. And, I believe, this has been achieved so very well because Tristan Taormino has sought out some of the most experienced and knowledgeable people for each topic, to talk about their special areas of interest and expertise (I have included a complete list of contributors and the chapters they wrote at the end of this review), giving the reader the feeling that they really are getting a genuine and authentic insiders view."
Distinctly Female

"In this collection Taormino smoothly manages the difficult task of creating a book that can speak to a wide range of audiences. The Ultimate Guide to Kink provides what I imagine is an approachable and welcoming introduction to many aspects of BDSM play that I wish Id had available to me when I jumped into BDSM a decade ago. From Felice Shays chapter on Playing with Rough Sex to edgier and taboo role play like Digging in the Dirt: The Lure of Taboo Role Play by Mollena Williams, the book truly has something for folks of all experience levels, from a beginner whos curious about exploring to more experienced readers interested in being challenged by discussion of kink community/culture, edge play and consensually pushing our limits. The Ultimate Guide to Kink is a landmark collection destined to be a touchstone classic to recommend to anyone interested in BDSM exploration."
Lambda Literary

"An informed and informative 475-page compendium focusing upon diverse verse varieties of unconventional human sexuality, The Ultimate Guide to Kink: BDSM, Role Play and the Erotic Edge by Tristan Taormino provides 'user friendly' techniques and creative ideas for bondage, spanking, flogging, sensation play, rough sex, and incorporating alternative sexual activities into one's sex life. Of special note is the information presented on sexual role-play fantasy. Clearly for an adult readership only, The Ultimate Guide to Kink: BDSM, Role Play and the Erotic Edge is highly recommended and instructive reading for men and women seeking to expand their experiences with respect to their sexuality."
Midwest Book Review

"This book is exactly what you need if you have ever had questions about kink. This book is such a nice introduction into kink, and it is also an instructional guide if you are not sure where to begin."
Kissin Blue Karen

"If you have ever wondered about kink then you need to pick up this book. This book will answer all of you questions. If you are curious about kink or an old hand at it this is a book you need to add to your collection. There are chapters on role-playing, dominance, submission, and much much more. If you are new to kink this book explains the different types of things you can try as well as a having a safeword. There is a chapter that shows you how to do bondage using ropes or scarves. There are tips and techniques. They even talk about aftercare at the end of the chapters. This is the complete deal."
Night Owl Reviews

So many of the people who write me at Savage Love are curious about kink some days it accounts for half the mail but they dont know where to start. Im going to be recommending this collection of essays. This is more than just a guide to kink, its more than a sex manual. Editor Tristan Taormino has brought the players, thinkers, and rock stars of the kink scene and together they have created a book that not only lets people know where to start, but why to start, and what theyll get out of it. Vanillas, novices, old hands, old guard everyone can learn from this collection.
Dan Savage

"Tristan Taormino has gifted us with a magnificent collection of essays from kinkdom's finest educators: consider it required reading for every kinkster who lives life on the hot side."Dossie Easton, co-author of The New Topping Book and The New Bottoming Book

"Tristan Taormino has created a perfect compendium of kink that covers the nuts and bolts (with illustrations!) of spanking, bondage, role-playing, rough sex and much more, as well as the philosophies, motivations and deeply personal experiences of an array of BDSM players. If "Brutal Affection" sounds like an oxymoron to you, read on. Keep a copy in your bedroomand your toy bag!"
Rachel Kramer Bussel, Editor, Spanked and Best Sex Writing 2012

"Finally, a smart, comprehensive, and brave book on kinky sex for this generation. Tristan Taormino's Ultimate Guide to Kink is the first really good new book on the subject in years. BDSM and kink aficionados are lifelong learners, endlessly fascinated with their own sexual and personal growth. They do love their sex guides! I expect this to be the BDSM bible for the next decade." Felice Newman, author of The Whole Lesbian Sex Book