Operational Updates
Click HERE for the most updated hours, customer guidelines and updates to store policy.
Safe Word: An Erotic S/M Novel (Paperback)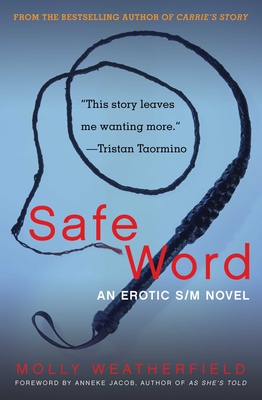 $15.95
Usually Ships in 1-5 Days
Description
---
From the author of Carrie's Story comes the continuing tale of a young woman's uncompromising sexual adventure. Carrie leaves Jonathan, the S/M master who initiated her into a life of slave auctions, training regimes, and human "ponies" preening for dressage competitions. Whisked away to Greece by the demanding gentleman who has chosen her as his own, she learns new, more rigorous methods of sexual pleasure.
About the Author
---
Molly Weatherfield is the penname of Pam Rosenthal, author of Carrie's Story (Cleis, 2002) and the forthcoming romance novel The Bookseller's Daughter (Kensington, 2003). She has written for Salon.com and her writing appears in Susie Bright's Best American Erotica 2000. Pam is also married to Michael Rosenthal, owner of Modern Times Bookstore in San Francisco, CA.
Praise For…
---
"Just when you think things can't get wilder, they do."
Black Sheets magazine

"This story contains some of the most erotic pony girl training sessions I have ever read. I definitely recommend this book."
Equus Eroticus

"Fans of the popular S/M novel Carrie's Story won't be able to put down this sequel in which Carrie sheds her old life with lover Jonathan and embarks on an incredible sexual adventure to prove her devotion to a demanding master. Torrid scenes of training in the explicit arts of sexual satisfaction blend with fevered passion and the agony of living with life's sometimes-difficult choices in a book rife with compelling characters."
Good Vibrations

"Fans of Carrie's Story will definitely want to get their hands on this hot little sequel to that best-selling erotic S/M novel. Safe Word continues the story of Carrie, former Berkeley lit. student turned sex-slave, after her sale at a fancy European slave auction. This book starts at the end of her year-long servitude and slave-training, with Carrie meeting up with her former master, Jonathan. The book goes back and forth, with Carrie and Jonathan swapping stories from their past year apart, and it gives a fascinating glimpse into their interpersonal dynamics and individual sexual experiences. That is, if you chose to read it straight-through, it does. The book also works well if you hold it open with one hand, breathlessly skimming for the next hot sexy scene..."
Blowfish.com

"Intense and vivid imagery, not intended for the faint of heart. Safe Word takes the realm of BDSM to an expanded plane. It is best to compare the wonderful and detailed brilliancy of this book to the series The Claiming of Sleeping Beauty by Anne Rice. Ms. Weatherfield ranks up in the leading light by indulging readers with a rare view to a secret world. The view of human ponies and the relationship between master and slave still holds the delicate line and foundation of trust. A breathtaking book."
Mila Bean, Coffee Time Romance

"It's sheer delight to find what is foremost a great novelthat just happens to have an SM theme and pervy characters. Set in modern day Europe/USA, Safe Word provides a welcome break from the dirge of SM authors insistent upon writing about Morocco or Victorian school houses. Weatherfield's style makes eating a croissant or buying creamy French stationery as sexy as scenes of whipping or pony scenes."
Skin Two

"Safe Word is an excellent addition to The Carrie Saga. I loved the sexy turnaround between Carrie and Jonathan, and I can't wait to find out what happens next. More, please!" -- Megan Hart, author of Switch