God Don't Like Ugly (Paperback)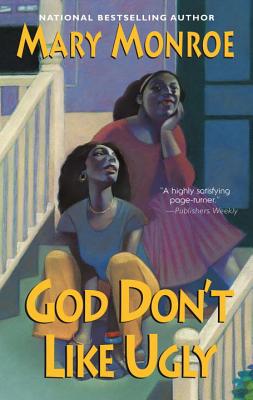 Description
---
In her richly drawn debut novel, Mary Monroe brings to life the bond between two girls from opposite sides of the track—and the shattering event that changes their lives forever.

At the heart of the story is Annette Goode, a shy, awkward, overweight child who keeps a terrible secret. Mr. Boatwright, the boarder her hardworking mother has taken in, abuses her daily. Frightened and ashamed, Annette withdraws into a world of books and food.

But the summer Annette turns thirteen, something incredible happens: Rhoda Nelson chooses her as a friend. Dazzling, generous Rhoda, who is everything Annette is not—gorgeous, slim, and worldly—welcomes Annette into the heart of her eccentric family, which includes her handsome and dignified father; her lovely, fragile, "Muh'Dear;" her brooding, dangerous brother Jock; and her colorful white relatives—half-crazy Uncle Johnny, sultry Aunt Lola, and scary, surly Granny Goose.

With Rhoda's help, Annette survives adolescence and blossoms as a woman. But when her beautiful best friend makes a stunning confession about a horrific childhood crime, Annette's world will never be the same.

Set on the streets, porches and parlors of 1960s and 1970 Ohio, God Don't Like Ugly sparkles with clear-eyed wit and uncompromising honesty. Readers will find this remarkable new novel full of laughter, inspiration, and pure enjoyment.
About the Author
---
Mary Monroe, the daughter of sharecroppers, is the author of the award-winning and New York Times bestselling God series that includes God Don't Like Ugly and God Don't Make No Mistakes, among other novels. Winner of the AAMBC Maya Angelou Lifetime Achievement Award and the PEN/Oakland Josephine Miles Award, Mary Monroe currently lives in Oakland, California, and loves to hear from her readers via e-mail at AuthorAuthor5409@aol.com. Visit Mary's website at MaryMonroe.org.