You'll Do: A History of Marrying for Reasons Other Than Love (Hardcover)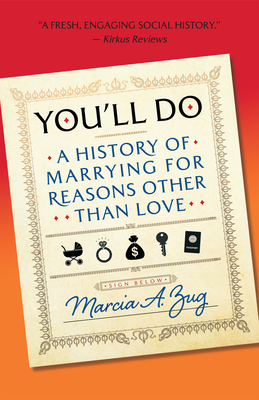 $29.95

Coming Soon - Available for Pre-Order Now
Description
---
An illuminating and thought-provoking examination of the uniquely American institution of marriage, from the Colonial era through the #MeToo age

Perfect for fans of Rebecca Solnit and Rebecca Traister

Americans hold marriage in such high esteem that we push people toward it, reward them for taking part in it, and fetishize its benefits to the point that we routinely ignore or excuse bad behavior and societal ills in the name of protecting and promoting it.

In eras of slavery and segregation, Blacks sometimes gained white legal status through marriage.

Laws have been designed to encourage people to marry so that certain societal benefits could be achieved: the population would increase, women would have financial security, children would be cared for, and immigrants would have familial connections.

As late as the Great Depression, poor young women were encouraged to marry aged Civil War veterans for lifetime pensions.

The widely overlooked problem with this tradition is that individuals and society have relied on marriage to address or dismiss a range of injustices and inequities, from gender- and race-based discrimination, sexual violence, and predation to unequal financial treatment.

One of the most persuasive arguments against women's right to vote was that marrying and influencing their husband's choices was just as meaningful, if not better.

Through revealing storytelling, Zug builds a compelling case that when marriage is touted as "the solution" to such problems, it absolves the government, and society, of the responsibility for directly addressing them.
About the Author
---
Marcia Zug is a family law professor at the University of South Carolina School of Law. She is a graduate of Dartmouth College and The Yale Law School. Her previous book, Buying A Bride, explored the history of mail order marriage in the United States. She lives in Columbia, SC with her husband and two daughters.
Praise For…
---
"A fresh, engaging social history." — Kirkus Reviews

"Gold diggers, bigamists, prenups, breach of promise suits, alimony: it's all here, wrapped up in an engaging and accessible account." — Booklist

"You'll Do is a fascinating and thorough historical review of the institution of marriage." — Foreword Reviews

"An engrossing account of why individuals have married for reasons other than love and often made that work, but Zug also warns of the dangers to our most vulnerable citizens when policy-makers make legal rights and social benefits that should be available to all contingent on marriage."
— Stephanie Coontz, author of Marriage, A History: How Love Conquered Marriage

"Zug's wry, clear-eyed history of American marriage, in all its unromantic glory, shines a new light on an old institution. An absolute pleasure to read." — Liz Scheier, author of Never Simple

"You'll Do is a wonderfully fun romp through the history of why people marry. Zug weaves together colonial incest laws, her great-aunt Rosie's marriage designed to help a man escape the Nazis, Saturday Night Live, Jane Austen, contemporary welfare policy -- and more -- to tell the story of the marital bargain. While the common assumption is that people should only marry for love, Zug explains why so many people do not -- and why that decision makes sense."
— Naomi Cahn, author of Marriage Markets

"The best books are those that prompt you to reconsider long-held assumptions about things we take for granted, and Marcia Zug's You'll Do fits that definition to a tee. In an illuminating, incisive, clever, and, at times, maddening study, Zug identifies the myriad ways in which our laws and norms both treat marriage as means to an end and undervalue the very different legitimate ends that marriage can serve. As Zug persuasively demonstrates, we've become too accustomed to viewing marriage as a means of apportioning rights and benefits in our society — at great cost to both the other values marriage can serve and the other ways we can and should confer those rights and benefits." — Stephen Vladeck, author of The Shadow Docket