Pregnant Butch: Nine Long Months Spent in Drag (Paperback)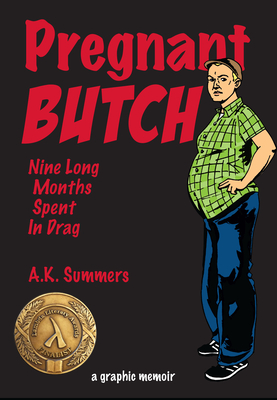 $17.95
Backordered or Out of Print
Description
---
First pregnancy can be a fraught, uncomfortable experience for any woman, but for resolutely butch lesbian Teek Thomasson, it is exceptionally challenging.

Teek identifies as a masculine woman in a world bent on associating pregnancy with a cult of uber-femininity. Teek wonders, "Can butches even get pregnant?"

Of course, as she and her pragmatic femme girlfriend Vee discover, they can. But what happens when they do? Written and illustrated by A.K. Summers, and based on her own pregnancy, Pregnant Butch strives to depict this increasingly common, but still underrepresented experience of queer pregnancy with humor and complexity—from the question of whether suspenders count as legitimate maternity wear to the strains created by different views of pregnancy within a couple and finally to a culturally critical and compassionate interrogation of gender in pregnancy.

Offering smart, ambitious art, this graphic memoir is a must-read for would-be pregnant butches and anyone interested in the intersection of birth and gender, as well as a perfect queer baby shower gift and conversation starter for those who always assumed they "got" being pregnant.
About the Author
---
Yvonne Bynoe has written and lectured extensively on politics, culture and economics and how those topics are often framed by popular culture. Bynoe is the author of the books, The Encyclopedia of Rap and Hip Hop Culture, which that chronicles the history of the genre, Stand & Deliver: Political Activism, Leadership and Hip Hop Culture, and Who's Your Mama?
Praise For…
---
"This comic's strength is its ability not to devolve into the oversentimentality or overseriousness that marks many pregnancy narratives. Instead, it forges ahead and finds complex personal meaning, and great inner strength, in the experience of bringing a child into the world. Summers's voice is fresh, honest, biting, and funny."—Library Journal

"Summers is a good storyteller [and] in the best way, this story is a coming of age story . . . It's hard not to melt when you meet her present family at the end of the book." —Buzzfeed

"Having a baby is a macho and delicate business, and A.K. Summers' Pregnant Butch shows how it's done with exquisite glory."—Jennifer Camper, editor of Juicy Mother

"I very much enjoyed reading Pregnant Butch. It's thoroughly engrossing and often very funny. I found a surprising amount to identify with, even though I will never be a butch lesbian or pregnant. Ms. Summers' book is happily recommended."—Howard Cruse, author of Stuck Rubber Baby

"Poignant and accomplished, A.K. Summers' Pregnant Butch is also fascinating. Revealing what it was like to be butch and pregnant, she questions how we inhabit roles that get at the core of our sense of self—and how we make them our own even when they are freighted with convention. Furthermore, Summers's deft artwork has great appeal: her line is a charming cross between Hergé and the Hernandez brothers." —Hillary Chute, author of Graphic Women: Life Narrative and Contemporary Comics

"A.K. Summers' Pregnant Butch is a Tintin lookalike who embarks down the path to motherhood. If you made it through that sentence without your head spinning, then you're ready for one of the weirdest, wonderful-est pregnancy memoirs out there. Employing a variety of art styles (think Hergé meets Jaime Hernandez, with a little Jack Kirby thrown in for fun), Summers has crafted a wry, wise tale that guarantees a chuckle on every page. Pregnant Butch is an unsentimental, no-holds-barred book filled with insight and genuine feeling. (And you know you want to see Tintin pregnant!)—Josh Neufeld, author of A.D.: New Orleans After the Deluge