Inter State: Essays from California (Paperback)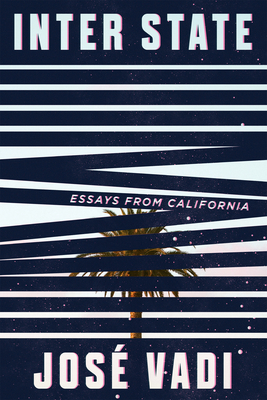 $16.95

NOT ON OUR SHELVES- available for order, usually ships in 1-5 days
Description
---
A "must read" debut collection of poetic, linked essays investigating the past and present state of California, its conflicting histories and their impact on a writer's family and life (Los Angeles Times).

California has been advertised as a destiny manifested for those ready to pull up their bootstraps and head west across to find wealth on the other side of the Sierra Nevada since the 19th century. Across the seven essays in the debut collection by José Vadi, we hear from the descendants of those not promised that prize.

Inter State explores California through many lenses: an aging obsessed skateboarder; a self-appointed dive bar DJ; a laid-off San Francisco tech worker turned rehired contractor; a grandson of Mexican farmworkers pursuing the crops they tilled.

Amidst wildfires, high speed rail, housing crises, unprecedented wealth and its underlying decay, Inter State excavates and roots itself inside those necessary stories and places lost in the ever-changing definitions of a selectively golden state.
About the Author
---
JOSÉ VADI is an award-winning essayist, poet, playwright, and film producer. Vadi received the San Francisco Foundation's Shenson Performing Arts Award for his debut play, a eulogy for three, produced by Marc Bamuthi Joseph's Living Word Project. He is the author of SoMa Lurk, a collection of photos and poems published by Project Kalahati / Pro Arts Commons. His work has been featured by the PBS NewsHour, the San Francisco Chronicle and The Daily Beast, while his writing has appeared in Catapult, McSweeney's, New Life Quarterly, The Los Angeles Review of Books, SFMOMA's Open Space, and Pop-Up Magazine.
Praise For…
---
"What distinguishes this tentative newcomer on the West Coast essayist scene? For one, a fresh approach: Vadi's deepest purpose is to understand and retrace the footsteps of his abuelo, who picked vegetables up and down the Central Valley. He layers this important quest with a tart mixture of originality and devotion, as well as his own lens as an avid urban skateboarder. And finally, Inter State deserves attention for the way it pits Southern California against the Bay—which is always fun . . . Some of the liveliest writing is fueled by the author's roots as a skateboarder with a 'unique, original, and destructively perceptive eye,' proving that a journey on urethane wheels can be a profound way to consider a city's architecture . . . [A] fast, slim, successful addition to the canon of books that get at something essential about a maddening, sprawling, epic state." —Nathan Deuel, Los Angeles Times

"A bold and incisive new collection of essays . . . Vadi's writing impressively charts his own family's story while also offering a larger examination of what we think we know about California, a state that's been endlessly mythologized but rarely explored with such searing passion and genuine depth . . . Presented as a blend of travelogue and historical commentary, the result is an enlightening . . . rumination on how we choose to memorialize the past . . . A must-read for all who wish to truly understand what it now means to be a Californian, the lasting triumph of Vadi's collection is just how clearly it maps the endless concentric circles that together define what it means to love a place and loathe it all at once." —Zack Ruskin, San Francisco Chronicle

"California is a palimpsest; there are cities and stories that were erased to make room for the ones that exist now. Vadi's dispatches about gentrification sanitizing Oakland, the state's many unheralded laborers (like the incarcerated men and women who work shoulder-to-shoulder but not dollar-for-dollar with our firefighters), and the tech and population booms reshaping the state, are an attempt to unearth those stories . . . His writing transposes those voices from the margins to center stage by letting them assume their rightful place as co-authors of the story of California . . . Inter State comes alive because of the intimacy Vadi infuses into his archiving . . . Vadi's meticulous retracing of his family's footprints across the state—down to the exact placement of the orange tree, chiles and aguacates in his late grandfather's backyard—is exemplary." —Naomi Elias, KQED

"In his new collection, Inter State, long-time East Bay essayist-poet-playwright-skater José Vadi travels the length of California and re-acquaints himself with the state's zeitgeist. In eight perceptive essays, his reportorial eye falls on sights as varied as the National Cesar Chavez Memorial, the California High Speed Rail Authority and blowing a tire on the Grapevine." —Michael Berry, East Bay Express

"This beautiful assortment of literary essays about Jose Vadi's experiences traversing California with his family and navigating the natural elements that make California tenuous yet tantalizing are truly fantastic." —Zibby Owens, Katie Couric Media

"José Vadi's Inter State is a homage to the very place where each of us Californians long to return to . . . Vadi opens up the landscape of California as a breathing, living history susceptible to the erosion of time, memory, and development . . . Inter State forces us to look unflinchingly at all of the contradiction and loss embedded within the borders of a state plagued with memory-starved thirty-somethings longing for a sense of the home they've watched disappear right before their eyes . . . The treks Vadi makes between Oakland and San Francisco, or South and Central California, are symbolic of the treks many of this generation are making each day of our lives. The constant eulogy that is home: the mourning involved in all the spaces responsible for our voices. Inter State is a testimony to those of us struggling to stay in our family homes just as much as it is to those of us forced to ship parts of ourselves in boxes across the nation . . . To read Inter State is to encounter the lived realities of the generation of Californians Vadi represents, tasked with retracing our steps in whatever ways we can to make sense of what haunts us, of what keeps us in a deep state of persistent longing. Vadi's writing embodies every aspect of what it means to live under a state of nostalgia, fighting desperately to forge home out of the things we've lost in the fire; and the endless attempts we make at wresting the possibility of a future up from their ashes." —Jari Bradley, Gulf Coast

"That Vadi is an avid skateboarder makes him not just advantageously mobile but also uniquely credible. I can think of few contemporary figures more identified with the state. Skate culture has deep roots and a vibrant presence here, and at its best, Vadi's prose replicates the slang and syntax of both a seasoned skater . . . and a millennial Californian . . . It's in these moments—when Vadi is colloquial and dripping in attitude—that his voice feels most vital and fresh . . . Inherently beautiful . . . For all his complicated feelings, Vadi's devotion to the state—a place he'd 'rather die in than live outside its borders'—is rooted in a hope so sincere it is contagious." —Sophia Stewart, Alta

"José Vadi offers a distinctive perspective on the past, present and future of the Golden State." —Tobias Carroll, InsideHook

"[Vadi] has a mature voice; intelligent yet probing. And each essay has the wit and candor of a conversation with a knowledgeable friend . . . exciting and elegiac . . . Vadi is authentic in discussing fears around his own precarity. His own fears of erasure. And the tenuous bonds, so heartbreaking, that hold families together . . . It's a clear eyed collection, lyrical and well researched, anchored by Vadi's charismatic and thoughtful voice. At turns fascinating and heartbreaking, Inter State explores California in an irresistible movement from a disappearing past to a fearful unknown." —Joseph Houlahan, Chicago Review of Books

"An ode to the silent yet ubiquitous experiences that every Chicano from California knows." —Alexandria Juarez, Electric Literature

"Regardless of setting, every essay in this sharp collection addresses a different aspect of California's gentrification, but the thread that holds the pieces together is Vadi's own confusion, anger, and bitterness at watching the state that he knows and loves fade away before his eyes, providing a modern rejoinder to Richard Rodriguez's kindred memoir Brown. At a line level, the book is outstanding, filled with long, breathless sentences, innovative syntax . . . Vadi's talent shines in his descriptions of characters . . . A stunningly written . . . series of essays about California." —Kirkus Reviews

"Part love letter, part indictment, this moving debut essay collection from Vadi captures the changing landscape of California. A native Californian, aging skateboarder, and poet, Vadi laments in deeply felt prose California's transformation . . . The provocative observations will please essay fans." —Publishers Weekly

"This dynamic collection of eight personal essays by native Californian José Vadi celebrates the history and culture of his home state while mourning the ravages of gentrification." —Shelf Awareness

"Inter State is a cinematic, tender collection of essays that breathe memory into the layered histories of an ever changing California. Written with prose that sings with love, Vadi demands that we pay homage to the cracks, the streets, the buildings, and familial bodies that once occupied spaces now crowded with gentrifiers and dreamers. 'How can I tell you how much an intersection means to me?' Vadi writes, and so we learn a land by driving, walking, by skating through smoke and ruin, paying attention to what startling beauty persists." — Mariama J. Lockington, author of The Lucky Daughter and For Black Girls Like Me