Baltimore Volume 1: The Plague Ships (Hardcover)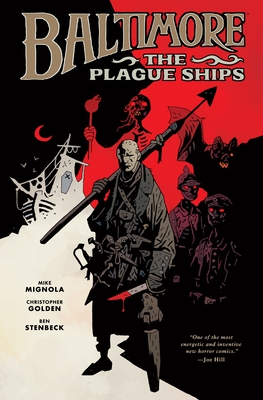 $24.99
Backordered or Out of Print
Description
---
After a devastating plague ends World War I, Europe is suddenly flooded with vampires. Lord Henry Baltimore, a soldier determined to wipe out the monsters, fights his way through bloody battlefields, ruined plague ships, exploding zeppelins, and submarine graveyards on the hunt for the creature who's become his obsession.
About the Author
---
Mike Mignola's fascination with ghosts and monsters began at an early age; reading Dracula at age twelve introduced him to Victorian literature and folklore, from which he has never recovered. Starting in 1982 as a bad inker for Marvel Comics, he swiftly evolved into a not-so-bad artist. By the late 1980s, he had begun to develop his own unique graphic style, with mainstream projects like Cosmic Odyssey and Batman: Gotham by Gaslight. In 1994, he published the first Hellboy series through Dark Horse. There are thirteen Hellboy graphic novels (with more on the way), several spin-off titles (B.P.R.D., Lobster Johnson, Abe Sapien, and Sir Edward Grey: Witchfinder), prose books, animated films, and two live-action films starring Ron Perlman. Along the way he worked on Francis Ford Coppola's film Bram Stoker's Dracula (1992), was a production designer for Disney's Atlantis: The Lost Empire (2001), and was the visual consultant to director Guillermo del Toro on Blade II (2002), Hellboy (2004), and Hellboy II: The Golden Army (2008). Mike's books have earned numerous awards and are published in a great many countries. Mike lives in Southern California with his wife, daughter, and cat.

Christopher Golden is the New York Times bestselling author of such novels as Snowblind, Tin Men, The Myth Hunters, Wildwood Road, The Boys Are Back in Town, The Ferryman, Strangewood, and Of Saints and Shadows. He has also written books for teens and young adults, including Poison Ink, Soulless, and the thriller series Body of Evidence, which was honored by the New York Public Library and chosen as one of YALSA's Best Books for Young Readers.

Golden cowrote the illustrated novel Baltimore, or, The Steadfast Tin Soldier and the Vampire with Mike Mignola, which became the launching pad for the cult favorite comics series Baltimore. As an editor, he has worked on the short story anthologies Seize the Night, The New Dead, and The Monster's Corner, among others, and has also written and cowritten comic books, video games, screenplays, a BBC radio play, the online animated series Ghosts of Albion (with Amber Benson), and a network television pilot.

Golden was born and raised in Massachusetts, where he still lives with his family. His original novels have been published in more than fourteen languages in countries around the world.

Please visit him at christophergolden.com.

Ben Stenbeck is an illustrator known for Baltimore, B.P.R.D., Living with the Dead, Hellboy, Concrete, and many other comic book titles. 

You can learn more about Stenbeck and his work at benstenbeck.com.