Apples of North America: Exceptional Varieties for Gardeners, Growers, and Cooks (Hardcover)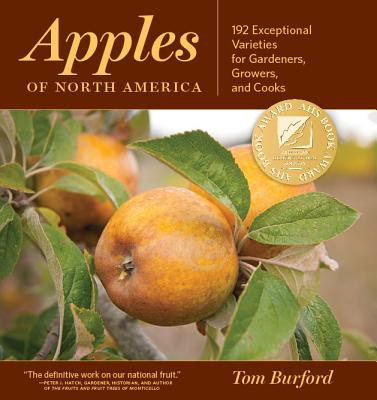 $34.95
Backordered or Out of Print
Description
---
American Horticulture Society Award Winner

The apple is one of the most iconic fruits, traditionally picked on cool fall days and used in pies, crisps, and ciders. And there is a vast world of varieties that goes beyond the common grocery store offerings of Red Delicious and Granny Smith. With names like American Beauty, Carter's Blue, and Fallawater, and flavors ranging from sweet to tart, this treasure trove of unique apples is ripe for discovery.

There is no better guide through this tasty world than Tom Burford, whose family has grown apples in the Blue Ridge Mountains since 1715. The book is brimming with beautiful portraits of heirloom and modern apples of merit, each accompanied by distinguishing characteristics and common uses. As the view broadens to the orchard, you will find information on planting, pruning, grafting, and more. The exploration of the apple culminates with an overview of the fruit's transformative capabilities when pressed, fermented, cooked, or dried. Beyond the polished and predictable grocery store display of Red Delicious and Granny Smith apples, a feast of beautiful and uniquely flavored North American varieties awaits the curious.
About the Author
---
Tom Burford was a horticulturist, orchardist, nurseryman and consultant specializing in restoration, re-creation, and design at historic sites (including Monticello) as well as, backyard and commercial orchards and private estates. He was the author of Apples: A Catalog of International Varieties (1991, 1998) and co-author of The Fruit Grafters Handbook (2001). He co-authored the Brooklyn Botanic Garden book The Best Apples to Buy and Grow (2005).
Praise For…
---
"The definitive work on our national fruit." —Peter J. Hatch, The Fruits and Fruit Trees of Monticello

"A lovely, browsable work for apple enthusiasts." —Library Journal

"The long-awaited masterwork by America's greatest apple expert, Tom Burford, is an invaluable resource for lovers of flavorful and historic apples." —Los Angeles Times

"A fascinating account of heirloom types." —Southern Living