Operational Updates
Reopening for in-person browsing: JUNE 6
store hours: 12pm to 6pm everyday
We are still accepting online orders, as well as care package orders at this link.
New Customer Guidelines:
No Mask, No Entry. If you don't have a mask, knock on the door and a staff member will bring you one that you can keep.
Browse with intention. Don't touch every book in the store if you don't have to.
In order to ensure touchless checkout, we are not accepting cash at this time.
Only 7 customers are allowed in the store at one time.
No pets at this time.
Children need to be vigorously supervised; they cannot leave your side while you are browsing.
All seating areas are closed.
Our tea service is currently suspended, but you can still buy the tea leaves to make at home.
Dance Upon the Air [With Headphones] (Playaway Adult Fiction) (Pre-Recorded Audio Player)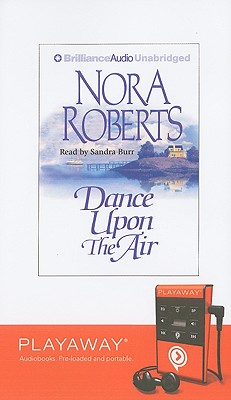 Description
---
#1 New York Times bestselling author Nora Robertshailed by Publishers Weekly as a storyteller of immeasurable diversity and talentpresents the first book in her mesmerizing new Three Sisters Island trilogy. Set on a remote, rocky island off the coast of Massachusetts, steeped in history, romance, and legend, Dance Upon the Air is an unforgettable tale of friendship, fate, and the mysterious ways of the heart When Nell Channing arrives on charming Three Sisters Island, she believes that shes finally found refuge from her abusive husbandand from the terrifying life she fled so desperately eight months ago But even in this quiet, peaceful place, Nell never feels entirely at ease. Careful to conceal her true identity, she takes a job as a cook at the local bookstore cafand begins to explore her feelings for the island sheriff, Zack Todd. But there is a part of herself she can never reveal to himfor she must continue to guard her secrets if she wants to keep the past at bay. One careless word, one misplaced confidence, and the new life shes created so carefully could shatter completely. Just as Nell starts to wonder if shell ever be able to break free of her fear, she realizes that the island suffers under a terrible curseone that can only be broken by the descendants of the Three Sisters, the witches who settled the island back in 1692. And now, with the help of two other strong, gifted womenand with the nightmares of the past haunting her every stepshe must find the power to save her home, her loveand herself.